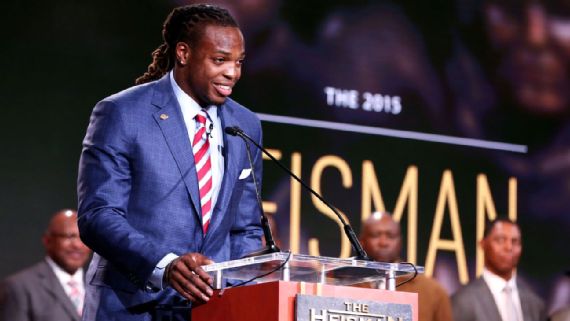 On Saturday, December 12, Alabama's tailback, Derrick Henry, was awarded the 81st Heisman Trophy. To recap his season, Henry rushed for an SEC-record with 1,986 yards, had 399 carries, and 23 touchdowns. He says, "I'm just so thankful to have this trophy. It's just a blessing and an honor."
The ceremony was held on Saturday, December 12 at 8 p.m. ET in New York City. Because the Heisman is awarded to the player with the most votes, Henry finished with 1,832 points, followed by Stanford running back, Christian McCaffrey.  The Clemson quarterback, Deshaun Watson finished third. Though Henry was considered the favorite going in, he claims that he was completely shocked and that all three guys would be great contenders for the trophy. When asked how surprised he felt, Henry replied saying, "My heart was about to bust out my chest. I thought I was going to have a heart attack." He gave a quick speech, in which he choked up thanking not only his coaches and teammates, but also family.
So far, Henry is the first running back to have won the trophy since 2009 when it was awarded to Mark Ingram from Alabama. In the five years following, the award has been given to quarterbacks, so it was nice for a change, being that Henry is a running back. All in all, he set the SEC rushing record breaking Herschel Walker's record set in 1981. He also tied the SEC rushing touchdown record held by Tim Tebow, and was very deserving of this award.