NOT YOUR TYPICAL FAIRY TALE
Hang on for a minute...we're trying to find some more stories you might like.
Amanda Lovelace is the creator of the books "The Princess Saves Herself in This One" and "The Witch Doesn't Burn in This One," which are both a part of the "Women are Some Kind of Magic" series. Her debut novel was released in February of 2016, and it was widely acclaimed, receiving awards like Goodreads Choice. In March of 2018, her second collection of poetry and prose was released, but this one had much more of a supernatural flare, something unusual in poetry. She uses witches as a prolonged metaphor for oppressed groups, particularly women, to describe traditional, entrapping circumstances and discuss modern, political topics. In the first book, Lovelace still talks about difficult topics, but it is much more about her own individual journey through grief and to self discovery. They both have several key themes in common, including encouraging activism, positivity followed by intense struggle, and, unlike many fairytales, a bit of a twisted ending. Amanda Lovelace definitely supplies the happily ever after, but it is not what you would expect – it's no longer outdated and features realism instead of fantasy. The narrator, being Lovelace herself, always finds strength within themselves and then encourages others to do the same. Her verse is inclusive and is even life changing. It inspires you without feeling like the same stereotypical speech that everyone has heard too many times because, trust me, you've never read anything like Amanda Lovelace's work with her attitude that I can only characterize as empowering, kind, and merciless.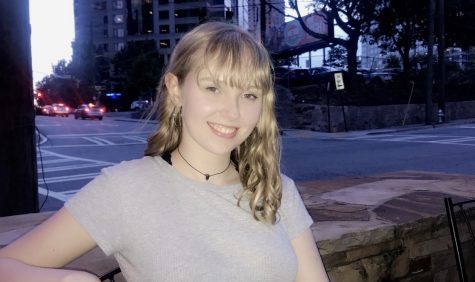 Hannah Roberts, Editor-in-Chief
Hannah Roberts has been in journalism for all four years of her high school experience, and, as a senior, she is ready for her final year here at Heritage....