Meet Azrael Woody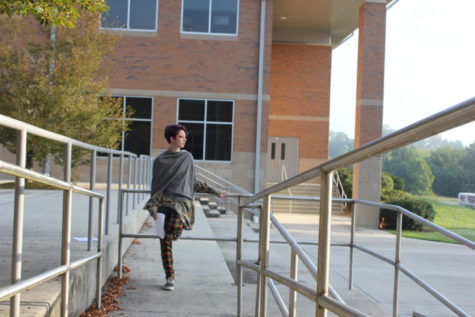 Azrael Woody is a current senior here at Heritage High School. They enjoy experimenting around with makeup looks, tending to their plants, gaming in their free time, and collecting crystals. They mostly keep to themselves, and prefer to keep quiet around others.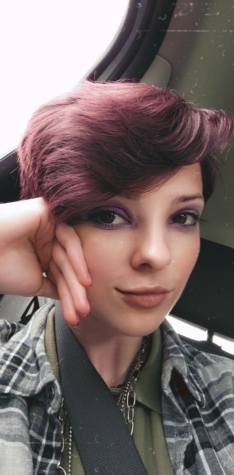 Azrael is a long term member with FBLA and a newcomer to NSHSS. For FBLA, they enjoy helping others and being creative. As for NSHSS, Azrael enjoys the opportunities that come from being a part of it. They also love helping others around them, helping them complete their goals in their lives .For Example, they helped with the mental health week here at Heritage last school year. "It was so great seeing everyone so happy and smiles going around." Azrael is currently taking Honors Anatomy, AP Literature, and Honors Economics. With their favorites being Journalism and AP Literature, while Honors Anatomy is their least favorite.
Their plans for the future include becoming a therapist or a mental health counselor. For possible side hustles they enjoy photography, makeup, and painting. Azrael's biggest inspiration is their Nanny, "she passed away a few years ago. She was my biggest inspiration, and helped me grow into the person I am today." Azrael believes in living life to the fullest, and taking risks. (maybe in dedication to their Nanny.)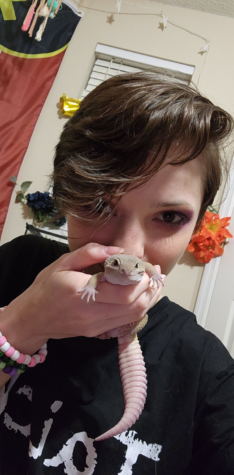 Their biggest pet peeve is "the way people chew, and especially with my little brother. It freaks me out!" Kind of relating to the last topic, they have a trait they hate most in others. "When people have such an ego, they let it get ahead of themselves. They don't consider other people's feelings." They said, "I've known people like that, and they don't turn out to be good people, and it's not anything going on in their lives, it's just they choose to be that way." Toxic friends are never good, and living life to the fullest, sometimes means you need to cut them off/out of your life.
Although being a wonderful makeup artist, working with different colors and shades, it's showcased on their face, most if not every day. With purple being a common one seen on them. Azrael's favorite color is black, "Even though it's considered a shade." they said. Being a fan of art and colors, they named their fancy leopard gecko, Blue. They also have two cats, Hobbs and Hazel.
To wrap it up, Azrael is a kind and helpful person- when not many people are anymore. Hopefully, they'll go on to pursue their dream career, and maybe pick up a few hobbies along the way.