Lakeview-Fort Oglethorpe

0

Jan 12 / Wrestling

Jan 11 / Varsity Boy's Basketball

Jan 11 / Varsity Girl's Basketball

Dec 14 / Varsity Boy's Basketball

Dec 10 / Varsity Boy's Basketball

Dec 10 / JV Boy's Basketball

Dec 10 / Varsity Girl's Basketball

Dec 9 / Freshman Boys Basketball

Dec 7 / Varsity Girl's Basketball
Monday, January 10
Girls Tennis Begins at 3:30 pm
Track meeting during lunch
Tuesday, January 11
REPORT CARDS GO HOME
Last Day to request a schedule change
MAP testing *modified schedule
Basketball at NW Whitfield (JV Boys at 4:30, Varsity Girls at 6:00, Varsity Boys at 7:30)
Wrestling at Dade County at 5:00 pm
Girls Soccer Tryouts begin at 3:30 pm
Wednesday, January 12
Girls Soccer Tryouts at 3:30 pm
Thursday, January 13
MAP Testing *modified schedule
Beta Club Meeting 1st half of lunch
FFA at Adairsville
Track Team Parent Meeting at 5:30 in film room
Friday, January 14
Basketball at Central Carroll (Varsity Girls at 6:00, Varsity Boys at 7:30)
Swim Meet at Calhoun
Saturday, January 15
Wrestling at State Preliminaries (TBA)
MONDAY, JANUARY 17TH IS A SCHOOL HOLIDAY (Martin Luther King, Jr. Day)
Map Testing will be on Tuesday and Thursday!
We will have a modified schedule
1st block 8:00-9:15
Testing 9:20-10:40
Lunch 10:40-11:30
2nd block 11:30-12:45
3rd block 12:50-2:05
4th block 2:10-3:25
Writing Contest
A writing contest sponsored by Columbus State University is open to all HHS students. There are several categories you can enter, and you can submit your work in more than one category. There are no format or word count guidelines. Deadline for entry is January 14. It's incredibly easy to enter! Click here for more information on the Carson McCullers Writing Contest. If you have questions, go and see any HHS English teacher.
Report Cards go home January 11th
Report cards for the fall semester will go home with students on January 11th. This report reflects the final grade for the course and will go on the student transcript. Report cards will also be available in student and parent portal. Students who failed a required class will either need to take the class over or complete credit recovery. Students should consult with their counselor to determine their best option.
Congratulations to the HHS All-State band Selections!
The following students were selected for the GMEA All-State Band which will be held at UGA in March. Congratulations!
Concert Band (9th/10th Grade):
Hayden Buckman, trombone
Trevor Boydston, trombone
Natalie Vaughn, euphonium
Emily Lin, flute (alternate)
Nicolas Mendez, trumpet (alternate)
Symphonic Band (11th/12th Grade):
Elise Hayen, 1st chair oboe
Tony Benavides, 2nd oboe
Parker Hayen, 2nd bassoon
Madi Coffey, clarinet
Anjali Culver, horn
Alex Frost, trumpet
Justus Smith, 2nd trombone
Justin Haynes, bass clarinet (alternate)
Wrestling Team Finished 3rd in Region!
The HHS Wrestling Team hosted the region tournament on Saturday, January 8th and placed 3rd to advance to the State Preliminaries. Tate Thomas, Drew Dietz, Evan Wingrove and Skylar Grant all went 3-0 in the tournament.
Dealing with COVID
We are definitely seeing a spike in the number of positive student and staff COVID cases even when individuals are vaccinated. Please have your student stay home if they are sick and experiencing symptoms or if they are awaiting COVID test results.
Senior Yearbook Ads
Senior ads in this year's yearbook are available for purchase. You can spotlight your senior with a 1/4 page ($85), 12 page ($150), or full page ad ($250). Email the message you want included, as well as the photos, to Mr. Peace at 
[email protected]
. Checks can be made to HHS and delivered to Mr. Peace or the main office.

Loading ...
Student Art: Wells 12/3 - 12/10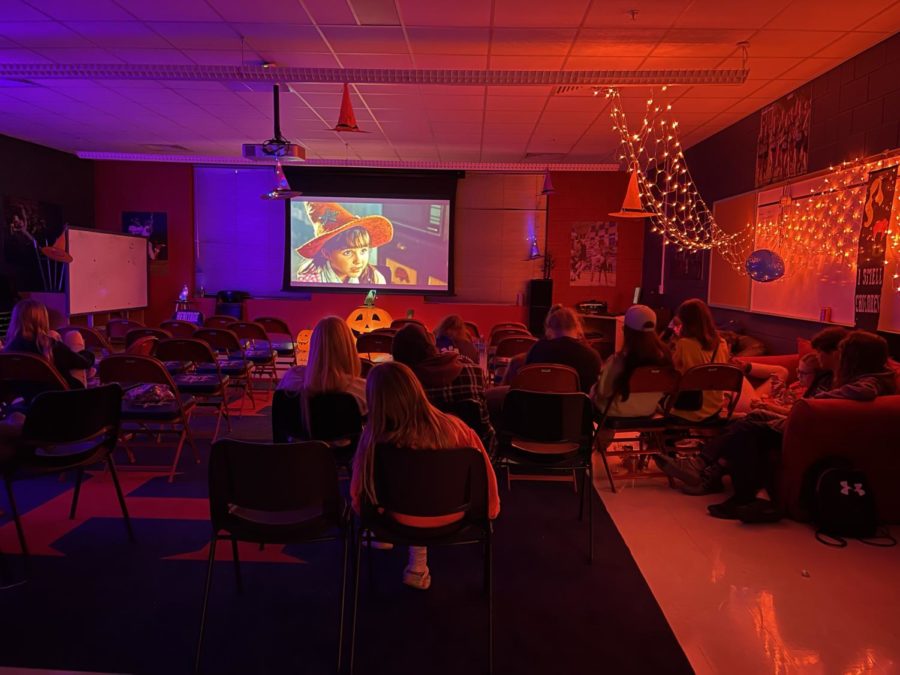 CTAE (Career, Technical, and Agricultural Education) hosted their annual Spooky Movie Night at the school last week. This year they played the...
Heritage Snapshots 11/8 - 11/12