John Hurst: Huge Shoe Guy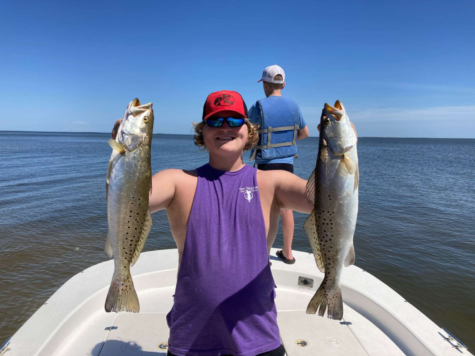 John steps out of the shade of the umbrella and into the blazing heat of the summer sun. He's been spending every second in the sun between work and football. He's a 17 year-old senior and an impeccable fisherman. At school John is currently taking Journalism, Weight Training, Colleague Readiness, and Economics. Once he graduates John says, "I want to go to a trade school and maybe become an engineer or something of that nature."
A typical Monday in summer for John is waking up at 6 a.m. and then going to football practice until 11 a.m. After that he usually goes home and takes a nap, and then wakes up a couple hours later. Next he has a variety of hobbies including fishing, hanging out with his bestest of buddies, golfing, and playing Xbox. Once done with this he always finishes his day with some TV.
John loves his music. He listens to country, rap, and classic rock. John sings along with "just say that" by Moneybagg Yo and it goes, "my hands so dirty from counting this cash I need to sanitize, I need to clean them!" John is always listening to music. He probably listens to music while he buys things, including shoes. John is a huge shoe guy. Dabbling in Jordan's, only the good ones of course. Whilst in Florida on vacation with John he actually bought a pair of Jordan 1's. They are pretty snazzy. The shoes are black, red, and white. I like more low cut shoes myself, but high tops are most people's favorites.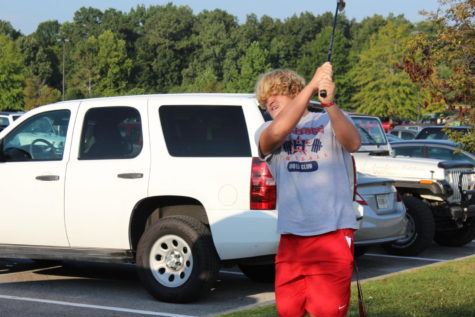 Fishing is another one of John's favorite things to do in his free time. One time he was fishing in Florida with some friends and he was out fishing everyone so bad Bryan had to take matters into his own hands. While trying to get a fish unhooked allegedly Bryan "accidently" cut John's finger, probably to handicap him. Once cut John calmly exclaimed, "ouch that hurt a bit." John then continued to outfish everyone. "I guess I'm simply dominant and y'all are buns to be honest." Although John doesn't know where life will take him. His personality will land him somewhere that makes him very delightful.