On the Field Again with JV Football
As it's time for another football season at Heritage that means it's also time for JV Football. JV Football is where the next stars of Heritage football not only get noticed, but master their craft. JV Football is also a place to learn more about the sport and how it works. "We want to see everyone improve physically, but also in their knowledge of the game," said Coach Gibson, Offensive Line Coach for JV and Varsity Football. JV is also very important for the incoming freshman to really learn everything about football. "We are so detail oriented that it takes the incoming freshman some time to come around to our thinking so any improvement in ATD (attention to detail) is huge," explained Coach Gibson. JV isn't just for freshmen though, it's for any underclassman and juniors who just aren't quite ready for Varsity.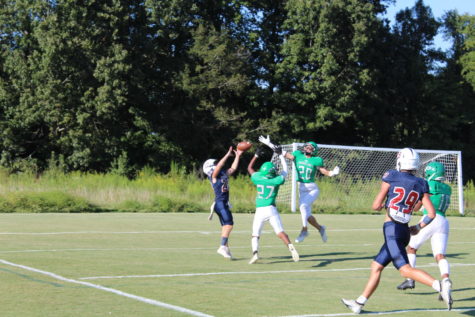 "My Favorite thing about JV Football is hitting the crap out of people." Said junior lineman Landen Edge. "JV Football has helped me so much over the past few years not only just how to play the game, but also to adapt this dawg mentality," said sophomore Hayden Henry. The dawg mentality Hayden speaks of means no matter how tired or thirsty a dog is he is gonna chase after the tennis ball at 110%. They try to incorporate this into their mentality on the football field.
The JV team has already played their first game this season against Northwest. Unfortunately, they came up short (26-20). "We made some big time errors that cost us opportunities to win. One you got to know where to go. Two you've got to know what job you're expected to execute. And three, you've got to put forth enough effort to get it done. So there were just certain instances where those three things did not align correctly," said Coach Gibson on the Northwest game. The JV team has several more games this season, and they would love to see you out there cheering them on. Good luck for the rest of the season!