VolleyBallin'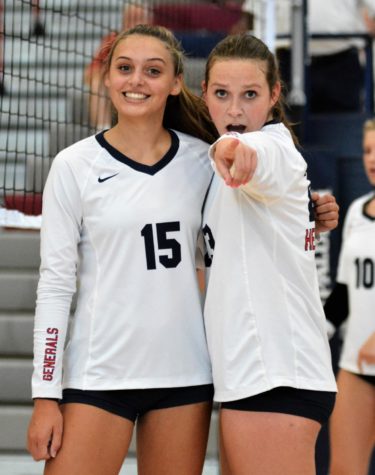 The volleyball team is pretty far into their season, and they are doing great. So far they are 22-3 in the season. They are dominating the region with a 7-0 region record (putting them in first). They are also undefeated at home going 9-0. There are a lot of very good games and memorable moments, but to senior Lauren Mock one stands out. She thinks the best game as a team was their win against Kell High School. She said, "Our whole team really stepped up that game and we played great, it really showed us how good we could be this season."  Sophomore Lexi Berry agrees that the Kell game was their best stating "We went to 3 sets and ultimately came out on top. It was such a fun and exhausting game but we played very well together."   Lauren also said that Lexi Berry stood out to her so far this season. "Lexi has a big role as an underclassman, and she is doing a great job with it. Even though she is younger than us she is still a great leader for the team," she explained. Lexi had something to say about Lauren too. "Lauren has really filled the leading senior role. She takes control on the court and she is such a fun person to be around." Lauren also mentioned someone who stood out to her. "[Junior] Aaliyah Rodgers is always very consistent in our games, and she is always a player the team can rely on," she said. 
Of course with a team playing this well there must be some good coaching. According to Lauren "our coaches do a great job of helping us understand that we aren't expected to be perfect. They help us learn how to get better everyday, and they push us to be the best players we can be." Lexi also shared about coaching saying, "We have been working a lot on discipline this year. We also set goals at the beginning of the season like being undefeated at home and working everyday to meet them." Some of the work doesn't come from coaches obviously, so Lexi has been working on working on the mentality side of the game. She has also worked on the physical side of the game. She has been working on serving and passing.. Lauren is also improving this season stating "I've been working on my leadership and communication. I'm trying to be someone all the girls look up to and feel like they can talk to." 
Hopefully this team can continue their region dominance and make it further than any Heritage Volleyball team has made it before which was the final four a few years back. They might also be able to complete the season undefeated at home. That would be a great accomplishment if they are able to do so.