Long Live the (Homecoming) Queen: Avery Frost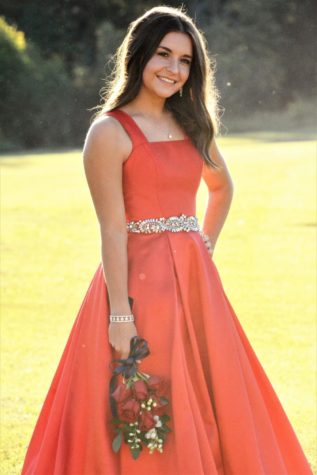 Avery Frost, one of the Senior representatives for Homecoming, is excited to accomplish such an honorary position. She has accomplished many things during her years here, and she is seen as a phenomenal student by many teachers and students, some even more than most.

When Avery heard her name announced throughout the school for representative she felt excited and honored, and she had thought originally that people wouldn't think of her to fit the position due to previously having it. She said, ¨It's nice to see that people still thought I was a positive person.¨

Although she was excited about the position, she was also nervous about how involved she is. She is active in a lot of different school activities such as NEHS, Band, Drum Major, BETA Club, Tea Club, Chamber Choir, etc. Avery felt anxious about being singled out, but most importantly she was afraid of tripping in her dress in front of everyone. Although, even with the nervousness she still felt that bursting excitement of getting ready for the band's halftime at the game. She couldn't wait to be able to share the experience with her friends and family.


Avery described herself as passionate due to her many activities and passions. She said, ¨I give one-hundred percent whether that´s for theater, student government, one of my academic classes, or with my church group.¨ As for the many activities she is involved in, she chose them due to wanting to gain more leadership experience, and she loves to help people. She expressed, ¨Those are good ways to help people through service projects, and with my choir and band, I love music. To have a Drum Major position I am able to be really involved.¨ Avery is a very involved student, and she plans to use her abilities to the best to create a bright future for herself.

After high school Avery has a plan for where she wants to go, and for what she wants to do. She said, ¨I want to go to Freed Hardeman University, which is a Christian college in Tennessee. I only want to go there though if I decide to go into nursing.¨ Avery plans to become either a pediatrician, or she plans to go into child's physical therapy. She has also said, ¨If I want to go into a teacher route for a primary school, I'll probably stay around here and go to UTC.¨ She wants to make a difference in children's lives just like she does for others around her.


Outside of her school life Avery is a very enthusiastic and caring person. She loves to spend most of her time with her family, due to this she said, ¨It´s a little bit of a cheesy response, but it tears me up because they are my little support group.¨ Avery is very involved with her family. Other than spending time with her family, she is also committed to a youth group. She said, "Being involved in that is really helpful for my mental and spiritual well being," in which she loves her youth group and how supportive they are. Avery and her family are very close, and they continued to show their love for her at the Homecoming football game.

For the homecoming pep rally Avery chose Mrs. Tollett to escort her. The reason Avery chose her is because Mrs. Tollett has been such a large inspiration in her life, and she has been a big reason for her getting through high school. Avery expressed, ¨She has cheered me up every day, and last year was a really hard year. Her class made it all worth it. I just admire her in every way possible.¨ Along with this, her escort for the homecoming football game is her father, she said, "We kind of have to do our father figure, and then my mom will be there. I'm afraid he is going to start dancing while we're going down the field.¨ Avery had expressed for everyone to ¨stay tuned¨ for the dancing.


On the night of homecoming Avery was announced over the speakers as the homecoming queen at the football game. As her parents hugged her Sydney Bell, the 2021 homecoming queen, made her way over to pass on the roll crowning Avery as homecoming queen. Avery is very honored to have the position, although she was shocked by her winning. Mr. Bradford also walked over to congratulate her on her winning. Avery spent the rest of her night conducting the band, and honoring her position as homecoming queen.