Squat till' You Drop
Ladies and Gentlemen, once again it's time for Squatober.
What is Squatober you may ask? Well, it's only doing the world's greatest lift every single day for the entire month of October.  This is the second year we have participated in Squatober here at Heritage, but it has been a thing for a while beyond Heritage. "It kind of started with crossfitters. They used it as motivation," said Coach Gibson. He had more to say about why we started it at Heritage.  "We Jumped on board because I saw several articles about the benefits from 30 days of squatting." Not every day of squatting is going to be heavy, but for Coach Gibson,  "It's more about the bend at the knee, and practicing that bend pattern. Pattern shows improvement in not just strength, but also the quality of movement and for safety reasons it makes a lot of sense to be really good at bending."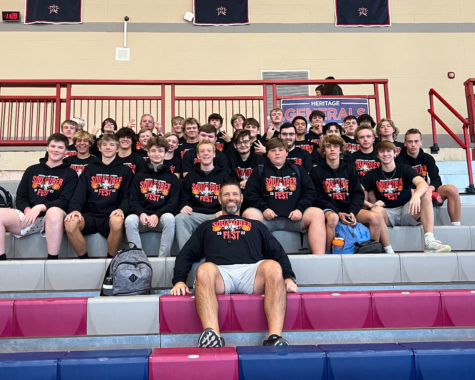 Junior Mason Weaver is a fan of Squatober probably due to the fact he is one of if not the heaviest squatter at Heritage, squatting 515 lbs. Mason shared about his love for Squatober saying  "Oh I love Squatober, arguably my favorite holiday mostly because I love squatting but also the shirts are cool." Coach Gibson had one more thing to say. "Of course squatting is great for you, but it's also a really good opportunity to have a really cool T-shirt."  Many people are doing Squatober because they have weight training and they are told to. Understandably, Squatober is bigger than the shirt to Coach Gibson "It's about creating excitement around something that is difficult in order to get better at it." I'm personally a big fan of Squatober and it saddens me that I only got two years of it. Squatober is an exciting event for all and will continue to be a fun event.