A Force to Be Reckoned with: Introducing Addie Kate Stafford
"Even if you don't have the same view, or you don't agree with it, you don't have to be mean to people for no reason," freshman Addie Kate Stafford proclaimed. Stafford wants everyone to be happy and live their life to the fullest, just like she is. Advocating for people and making sure everyone is treated with respect, no matter who they are or who they love is a big priority for her. Stafford is a creative soul who loves reading, painting, drinking coffee–and Harry Styles.
Stafford's family is very artistic, and she draws inspiration from them to paint and be creative herself. Reading is an inspiration to her art, and she spends most of her free time doing it, but she especially draws inspiration from her Mom, who is a photographer. She loves to paint with watercolor and see how it moves throughout the paper. Painting with watercolor is definitely not easy, so that just goes to show her artistic abilities.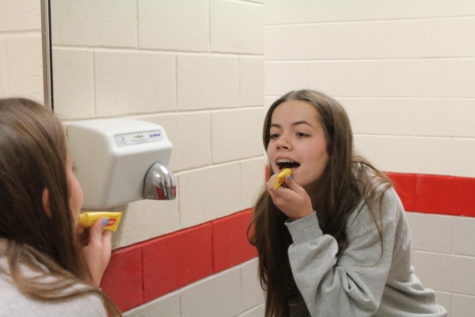 Fulfilling her artistic goals while living in a big city like New York or Chicago with two dogs and a cat is a big dream of Stafford's, having lived in small towns her whole life. She grew up in Mississippi but later moved to Georgia in 4th grade. She loves the idea of traveling too and has hopes of one day going to New York and Italy for vacation. The vibe of big city living thrills her, and she wants to move soon after high school.
Stafford has two heroes in her life, and that includes her mom and Harry Styles. She considers her Mom her hero for a multitude of reasons. Stafford's mom inspires her with her art of photography, and she's also a single mother. "She [has] done a lot for me and my brother [Heritage alum Caedon Stafford], and she's a single mom, so she's been through a lot," she said with admiration. As for Harry Styles, she is always inspired by his music and loves to jam along to it. "I just love everything about him," she explained.  Her favorite album is HS1, and she even did an art project on him. 
Art is one of Stafford's favorite classes, and she loves being in high school so far. It has been a completely different experience than middle school for her, and she's had many opportunities. Last semester, she got to be a football manager, and she fell in love with it. She plans to be one every year now. This semester, she has loved showcasing her artistic abilities, being in Art and Journalism. She has been loving Journalism this semester, especially all of the freedom she has and wants to take it every year. 
The freedom she has as a high schooler now, compared to middle school, is night and day: "The amount of freedom you get is a lot more than the freedom in middle school, and I really like the hour lunch." Heritage is so relaxed, and that is what Addie Kate loves about it.
In high school, and just life in general, she wants to have no regrets. She doesn't have any now, and she doesn't plan to, because even if she does something that's not great, she just views it as a learning experience. Having a positive outlook on life is a skill, and Addie Kate has mastered it.
Addie Kate's positive outlook is continuing into 2023, and her biggest goals this year are finishing the school year with great grades and going out to hang out with her friends more. She feels that "school takes a lot of [her] time up, and [she doesn't] really go out as much." Going out in nature is just as big of a priority for her too this year, as well as drinking more coffee because she can never have enough.
Addie Kate Stafford is a force to be reckoned with. She has done a lot of good in her life and will continue to.