Multiple Talents & Endless Smarts: Introducing Parker Scott
She stands on the side, holding her instrument with pride, and begins to march her way onto the grass field. She puts on a bright smile, adrenaline pumping through her veins as she brings her attention to her instrument. The director raises his hands to start. The soft sounds pouring out of the instrument start to meld together with the others, creating a beautiful melody. At this moment she couldn't imagine herself anywhere else.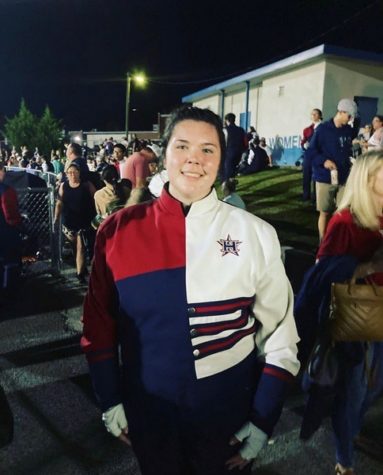 Parker Scott is a 15-year-old freshman, venturing through her first year of high school and her first year in the Heritage community. Coming to Heritage was an excellent choice for her, as she has met tons of new friends and even discovered a little more about herself. Coming to a new school was intimidating at the start—to say the least—but she quickly grew into it and found her place in band and choir. Scott is a person filled with an endless amount of talent. She plays the alto saxophone, piano, guitar, and a small amount of flute, with an eye on learning to play soprano sax in the future. "I'm always down to play a new instrument," she explained. Scott has the most experience with the alto sax and the least experience with the guitar, but her favorite instrument to play is the piano. "You can feel it in your heart and soul," she said. And not only does she play instruments, Scott can also accompany those sounds with her lovely singing voice as well.
Despite everything she does to maintain her passions, she always makes time to either read, journal, or play with her cats. She particularly enjoys reading romance novels. Along with reading, she also enjoys writing in her journal, "Journaling is my way of letting out all of my thoughts and feelings," she explained. She finds that writing in her journal day to day is an easy way to let her brain process what she feels, and it also never fails to get her creative juices flowing. When she needs a sweet break, she always finds one of her cats to play with: her family fosters cats, so she has a multitude of furry friends. 
Even though Scott is only a freshman, she already has a grasp on what her future holds for her. For one, she plans on going to Jacksonville State University, which has both a great band and business program. Her dad went there as well, which inspires her even more. She plans on taking business, but is also taking her creativity into consideration by considering being a creative director. No matter what career path she decides to pursue, whether she ends up changing it or not, it will always be worth it in her eyes. Scott believes that there are no regrets to have in life. Everything to her is only a choice to turn her in the right direction. "No matter how embarrassing something was, I've always thought that everything happens for a reason," she said. 
This girl is filled with multiple talents as well with with endless smarts. She's doing well in all of her classes. Her dad always finds time to quiz her and inform her about random facts. Through her great memory, she is able to remember all of these bits and pieces to help her in school and in life. Her favorite subject is English. Her love for English only encouraged her even more to take Journalism this year. After only a few weeks of Journalism, she has already decided that she would like to continue doing this for the rest of her time in high school.
Scott is a young girl with many different layers, from her excessive love for Taylor Swift all the way to her marvelous piano-playing skills. As she ventures her way through the challenging years of high school and beyond, she continues to take it easy, taking assurance in the trust she holds in herself and the decisions she makes. It is safe to say that her choice to join the Heritage community is certainly something that neither she nor others regret.