Diving to Success: HHS Swim Team Wrap-Up
The swim team dived into the competition this year, competed with great endurance, and performed excellent during this season. This year for the swim team was a difficult year, but they were able to do well with Coach Johnston advising the swim team. This was Coach Johnston's second year of coaching swim, so with his rookie year of coaching swim over, he was able to use that experience to better the team. This unequivocally helped the team. With new freshmen joining the team this year, a new influx of talent, and a rebound of swimmers, the team had a great roster.
They first competed at Tiger Plunge where they were able to have the men's team finish fifteenth of nineteenth and the women's team finish thirteenth of twentieth. The meet was difficult, but they were able to pull it out and swim to success. After Tiger Plunge, the swim team met at Cleveland where they had a stellar performance. Most notably, Timmy Jones, a senior, was first for 100 free and 100 back, and  Emma Pulliam was first for 100 back and forth for 50 free. Cleveland contained some of their best times, and was a really good meet in general, bouncing back after the Tiger Plunge meet. Additionally, the team competed at Adairsville. Talon Hairston, a sophomore this year, competed and had some of his best times this year. "My favorite meet is the one in Adairsville, because I swam one of my fastest times, at sub 30." Many other swimmers alongside Talon would include Adairsville being one of their favorite meets, and for a good reason.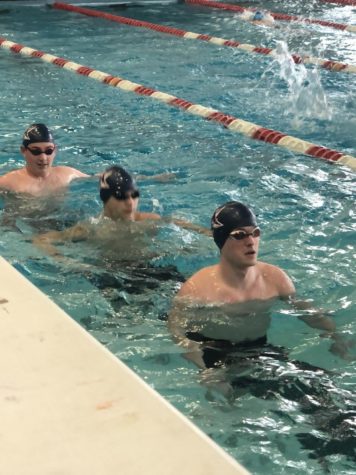 The swim team faced other challenges besides competing and performing. One difficulty was having trouble finding time to train and places to swim. Coach Johnston explained, "It's a little bit tricky because we're pretty much the only sport that doesn't have their own facilities. So, we have to use Mcallie's for practicing." However, one good thing was the swimmers got used to the Mccallie pool naturally, and this could have potentially assisted in their best meet.  "The best meet for the team as a whole was the Mccallie invitational, because we had a lot of swimmers swim personal bests. Specifically, Timmy Jones swam a sub minute 100 backstroke; which was a big deal, especially for him, " said Coach Johnston. Dalton was another meet that was exceptional for the team. Many swimmers landed  in the top 5 and 2nd place range. The North Georgia regionals contained some fabulous times and scores by many swimmers, qualifying them for the next round of competition. 
Throughout this season, there was improvement seen in all the swimmers. However, Coach Johnston explained that two swimmers stood out the most to him., "First, Jaslin Pack. She kind of emerged as the leader of the women's side of the swim team, posting lots of good times as well as qualifying to train with an elite group of swimmers that train at GPS. Timmy Jones also performed, being our only senior he stuck out as the leader of the men's side."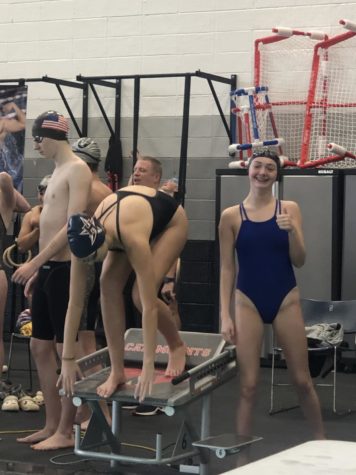 Coach Johnston is holding some optimism for next year, and with the continuous, exponential growth of his ability to coach, the swim team has never looked brighter. Coach Johnston summarizes it perfectly, and describes how strong the leadership will be for next year. "Yeah I've got a lot of really high expectations next year, Jaslin Pack is returning and we have  Emma Pulliam who's going to be returning. Anna Bradford will be there, and so on the field we have some strong leadership that's going to return." In all, the swim team looks toward next season with high hopes, and has their eye on the prize.