Five Star Students: Abigail Stoetzer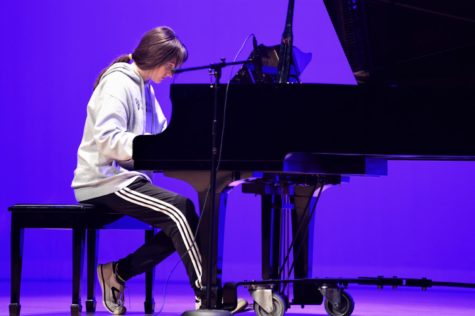 Abigail Stoetzer is a talented freshman here at Heritage High School. She is involved heavily in band– participating in jazz Band, Wind Ensemble, and Marching Band. She is the best highschool trombone player in the state of Georgia, placing first chair at All State and All District. Stoetzer manages to keep up great grades and friendships too, which she thinks being in band has helped with. 
Growing up, music had always been an interest of hers. She liked the way it made her brain feel, so she would sit at the piano and bang the keys until it made a nice noise, which her parents didn't like filling up the house. Her mom finally had enough of that, so she found a piano teacher for her. Stoetzner has been taking lessons on both trombone and piano ever since, and it has helped her immensely. Stoetzner said, "I don't think I'd be nearly as good if I didn't take lessons, especially when I was younger." It causes her to challenge herself, which is how she excels at playing.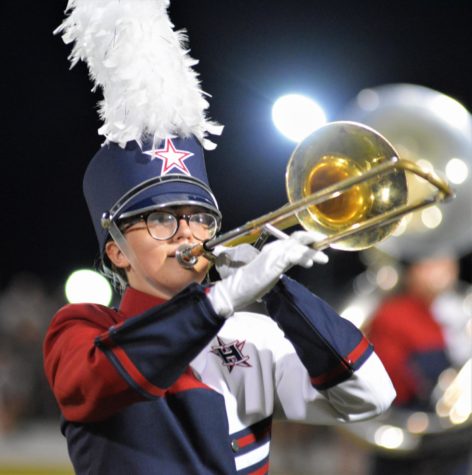 Taking lessons helped her get into Wind Ensemble, the top band, this year. It has been intimidating for Stoetzner, being the only freshman, but it has given her many opportunities like the UTC performance. Stoetzner explained, "The UTC concert was pretty cool because it was a nice auditorium and the music sounded really cool." She gets to play more challenging music, and even got to play piano for some songs. All the opportunities have been exhilarating for her and she has loved it.
Stoetzner loves music because it helps her in other aspects of life and school too. Mathematically, it has helped her and many band kids. Stoetzner explained, "I've always been good at math, but compared to my peers who haven't taken music to those who have, they are a lot better at grasping abstract concepts." She also mentioned her difficulties with writing, but music has helped her exercise that part of her brain, so she's better at it now. English was never a strong subject for her, but after becoming a musician, it started to get better and now she's an Honors English student. Music has been a great way to make friends and helped her with school, and she's grateful for that and all of the opportunities she's had this year.