Hoop There It Is: Varsity Boys Basketball
The Heritage Boys Varsity Basketball team this year not only played each game with great enthusiasm and exhilaration but also shot their way into an overall excellent year. Between taking the court by storm and practicing non-stop, the team was able to see prodigious improvement with a new level of discipline taking hold. Balling their way across the court, the team began the season with a match against Central Carrollton, which they unfortunately lost 50-47. The team used this loss to their advantage though, learning from their mistakes for their next game versus Cedartown. Heritage guarded Cedartown from the win, resulting in a score of 61-46 in Heritage's favor. Their confidence boosted, the team went on to play Northwest Whitfield, bringing a 62-49 win to the home court. These two triumphant victories were short-lived as Christian Heritage defeated the boys at home, 67-53.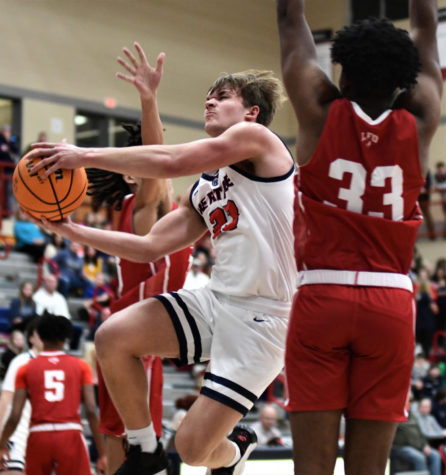 The team attempted a rebound facing off against Southwest Whitfield but fell short, 45-42. The setbacks continued with losses to Sonoraville (59-53) and, again, Central (73-57). Despite this run of defeats, the team rose from the ashes and beat Cedartown, 74-40. The season concluded in a run of losses against Northwest (64-57), Sonoraville (61-60, in a teeth-clenching finale), and, once again, Northwest (61-46). The team ended the season 9-15 in non-conference games and 4-9 in conference. While the Varsity team had its ups and downs throughout the season, in the end the team came out victorious when it came to mentality, character, and technique: the team went into the season with difficulty primarily in shooting, for example, and came out better than ever before. Even with seniors and leaders of the team leaving, the future for the team remains optimistic, and all team members, as well as Coach Hight, look forward to a prosperous season next year at Heritage.