They Did It for Diamond: Varsity Boys Soccer
Heritage's Boys' Varsity Soccer Team achieved many goals this year. They played fifteen games with eight wins, three ties and four losses. The boys' season kicked off by playing against North Murray, winning (3-1). They then traveled to Christian Heritage and played a tough game. Freshman Cruz Jackson said, "I didn't like that game, there were six yellow cards and three injuries– from Evan [Wamsley] dislocating his shoulder, Hunter [Brookshire] hurting his spine and neck, and me almost getting a concussion."  The team ended up losing (1-3) many players think it was because their goalie, Jay Williams, was out. The boys picked themselves back up with high hopes playing against Ridgeland, winning (7-0). Their next game ended with a tie against Cartersville (4-4) and a win against LFO (8-0). After their bye week they traveled to Trion, yet they tied (2-2). They came back home to play Model and won (4-3). They faced off against Woodland with a tough game and tied (1-1). Central Carrollton forced the boys to try their hardest, but they lost (1-4) and went on to travel to Southeast losing(1-2). They bounced back the next game winning against Sonarville (3-0),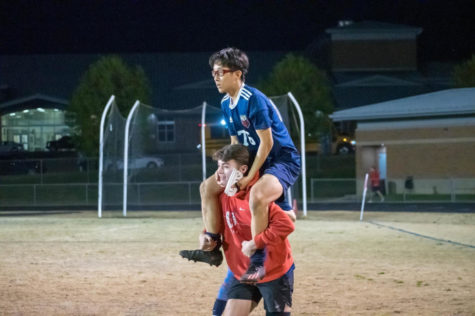 One favorite memory that many players share is the bus ride back from Sonarville. Senior Christian Morse said, "The window was down and I took a sandwich and nailed the car beside us. It was so funny." Senior Bryce McGee then expanded on the story, explaining that, "The guy came back and followed us all the way back to school. It was hilarious."  Morse said, "There was a lot of hype around that game." Because it was Senior night, the boys were in a great mindset. The next game was at home against Northwest Whitfield, with Heritage sadly losing (1-3). After an injury from the home team their Lafayette game got cut short but ended with a win. (2-1). Brookshire's first game back after his injury ended up being the reason he was off the field again. The team ended their season by playing Ringgold and winning 3-1. "The goals were crazy all night long," said sophomore Micah [Berry]. Many of the players had the same game: Heritage vs. Ringgold, the Heritage videographer Charles in the Cut came and filmed for them making the last game memorable. When the team was asked how they improved this year two responses stuck out, seniors Tipton Smart's and Inyoung Kim's, they both had similar responses with how the team grew. Smart said, "We played as a team, instead of playing individually it helped us actually win games." Kim then said, "We stuck together as a team more, even when we lost. We really improved our team chemistry this year." Coach Shipley was really impressed with the team this season he was especially impressed by sophomore Tristan Simmons, " Simmons had a great work ethic playing at the top, scored a bunch of goals, twenty-one I believe and he was one of the top scorers in the nation." Shipley is sad to see his seniors go, but he has high hopes for the team next year he plans to have them work hard and work together to accomplish the most they can.