Business, Business, Business: FBLA Spotlight
Over the course of this year, Heritage's Future Business Leaders Of America organization has made many accomplishments this year. To begin, FBLA hosted a Thanksgiving Food Drive, and over 3,500 food items were collected and donated to Heritage families in need/ local food banks. In addition to that, on Veterans' Day FBLA wanted to show appreciation by sending thank you cards to deployed veterans. Also, goodie bags were given to each Support Staff Member on National Administrative Professionals Day during FBLA week at HHS. Lastly, FBLA cleaned up the Heritage campus. They picked up trash and helped prepare for a clean graduation ceremony. FBLA has had so many great accomplishments over this year!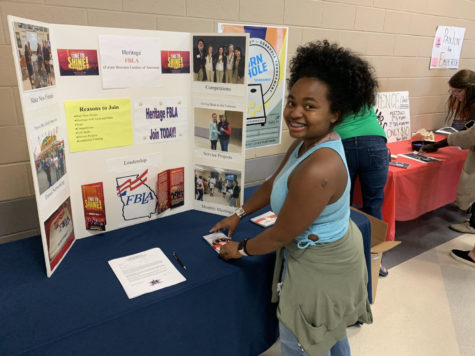 The HHS FBLA competed in competitions at the regional level and had seven competitors move on to the state-level competition. At the state level, Maggie Chen competed in the Organizational Leadership category, and Emily Lin competed in Business Calculations. They both placed within the top 50 out of 100 state entries.     
FBLA has also participated in other activities this year. One of these activities included the homecoming shopping cart parade, which they ended up winning! Another activity was Spooky Movie Night with the other HHS CTAE Clubs. In addition is HHS Market Day. This is an Entrepreneurship program that all HHS students can participate in. FBLA went to multiple universities, including Dalton and Tennessee State. Furthermore, they had many opportunities for leadership training and competitions. Finally, they get to celebrate everything they've done this year with an End of the Year Banquet.