SWEATER WEATHER
This Wednesday, December 17, Heritage High School held their annual tacky Christmas sweater day. The halls were flooded with red and green, and the Christmas cheer was palpable in every classroom. All of those dressed up met after the announcements to take pictures and sing Christmas carols.
This quirky Heritage tradition is one of the most popular at the school, and its roots go back to the very first year that Heritage was open. The first valedictorian of the school, Alex Lockwood, who worked with Mr. Bradford on the morning announcements, suggested the idea. Alex's brother had experienced the event at his college, and Alex thought it would be fun to try at Heritage High School. The first sweater day was a great success and therefore became a Heritage holiday staple. Mr. Bradford especially enjoys tacky sweater day, and each year he dons a new sweater. "I've had a couple that were gifts, a couple I've found at shops," Bradford shares. His favorite sweater he has worn was given to him by a faculty member. "It has cats with laser beams coming out of their eyes." Despite his affinity for his cat sweater, the most memorable sweater he recalls seeing at Heritage was worn by Mr. Torbett, the graduation coach. "He came in dressed as Cousin Eddie from Christmas Vacation."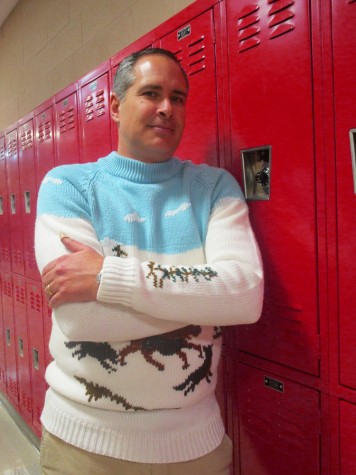 N. Long
Mr. Bradford is not the only one who loves tacky Christmas sweater day, though. Eva Cosby enjoys the Christmas spirit it brings to Heritage every year. Her decked-out sweater is covered in ornate Christmas pins that she and her mother have collected over a number of years.
N. Long
Lindsay Kalick truly loves Christmas sweater day and went all out with her sweater. "We got [the sweater] at the thrift store, and then my stepmom went to Michaels and got all the decorations and sewed them on." If it were up to Lindsay, she would have tacky Christmas sweater day everyday, so when it comes around, she always takes advantage of the opportunity. She thinks the best sweater of the day was Daniel Franklin's Christmas cat sweater.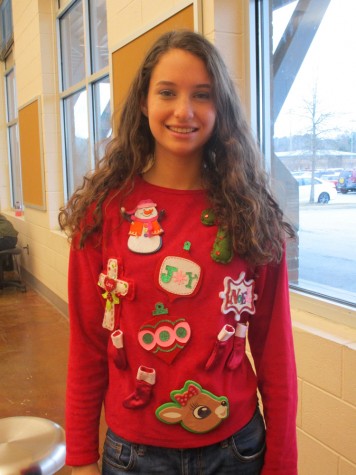 N. Long
Daniel Franklin got his Christmas cat sweater from "the music guy at church, his wife's grandma." His favorite part of tacky sweater day is simply getting to wear his incredible sweater, which he considers the best one that he had seen.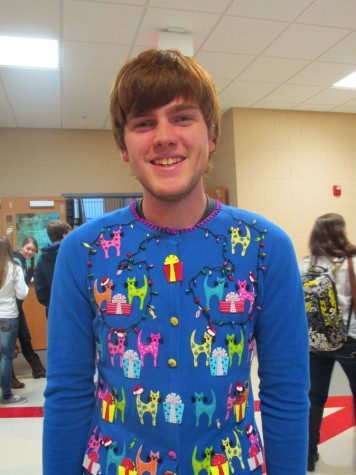 N. Long
Brandon Morell made his sweater by hot-gluing Christmas paraphernalia all over a basic green sweater. His favorite thing about the day is "seeing all the tacky ideas." Despite the hard work he put into his festive sweater, he thinks that Chris Richards had the best sweater of the day.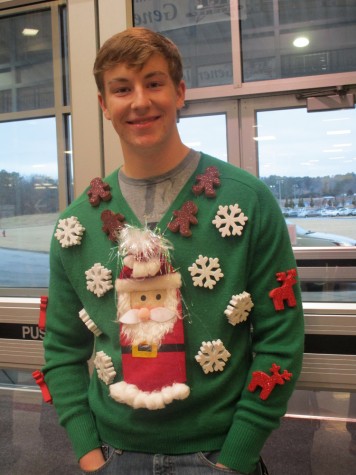 N. Long
Chris Richards ordered his reindeer sweater online, but the giant plush reindeer just wasn't enough. He continued to embellish it with bells and garland at the collar. The best sweater he saw was "somebody who had a full-blown Christmas tree with ornaments and everything."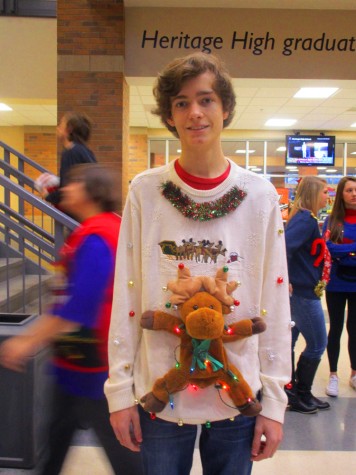 N. Long