JIMMY FALLON SAVED BY THE BELL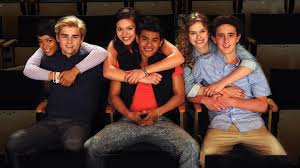 "Babes, books, and Belding." I've always loved Jimmy Fallon. But I loved him even more after he had a Saved by the Bell skit the other day. Let me tell you, that show was my childhood. Well, that and Boy Meets World, but we aren't talking about that. Bayside High School had a reunion the other day on The Jimmy Fallon Show. That's right, folks. Zack (Marl-Paul Gossalear), Slater (Mario Lopez), Kelly (Tiffany Amber Thiessen), Jessie (Elizabeth Berkley) and even Mr. Belding (Dennis Haskins) showed up to put on one final performance. But that's not all who appeared. A new student named Jimmy (obviously Jimmy Fallon himself) also joined the star-studded cast to add a little pizzazz to their performance. Sadly Screech (Dustin Diamond) and Lisa (Lark Voorhies) couldn't attend.
The plot formed around the fact the Valentine's Day Dance that was coming up. Naturally, all the guys were showing off their dates. Mario Lopez pulled out a fancy dance number that threw it back to his DWTS days. Kelly Kapowski got pregnant. And that's when Jimmy fessed up that he doesn't have a date to the V-Day Dance. Jimmy is going to miss the dance because he wants to move to New York to become a comedian. Maybe he could have his own talk show or be on Saturday Night Live even. Teenage Jimmy even joked that he would date Nicole Kidman.
Overall, I highly recommend watching that awesome flashback. It was a well-spent eight minutes of my life.