CHECKING-IN TO BATES MOTEL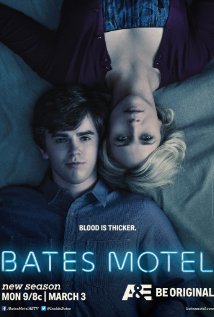 I don't care who you are, Netflix is the solver of all problems. Okay, maybe not all problems–not world hunger or anything like that–but it is a pretty big help when you're in need of something to cease your boredom and spice up the average TLC shows you watch every time you get your hands on a remote.
To be more specific, a show that I have found to be quite intriguing since I've started watching it is the television series, Bates Motel. I started watching this show last summer, which was also when I started investing some serious hours of my life into the beautiful haven that is Netflix. Basically, I had seen the very famous Alfred Hitchcock movie, Psycho, and I had also heard some pretty good reviews on the show, so I decided it couldn't hurt to at least watch the first episode or two. Although the first episode was pretty graphic, I could not help myself but to at least see what would happen in episode two. To my satisfaction, the second episode was not as graphically scarring as the first one, and with the combination of suspense and mystery I was absolutely hooked.
The thing is I'm not really one to be pulled in by such insanity like the kind this show has; however, I can't deny how much I seriously just love this show. I mean besides this show, most of what I watch literally consists of romantic comedy movies or SpongeBob. Trust me: I've tried watching The Walking Dead and other intense sort of "killing-enthused" shows, and I could not do it. But unlike those shows, I can watch Bates Motel without being afraid of impossible possibility of being eaten alive by a zombie as I walk down the stairs of my own house when the lights aren't on.
So if you are just dying to get a taste of Bates Motel, have no worries; the first–and more recently second–seasons have been released on Netflix and are waiting there just for you. And once you finish the first two great seasons, prepare yourself to keep up with the third one as it premieres March 9 on A&E. So in summary, I would highly recommend this show. To me the cast was flawlessly chosen, all of the elements that you would expect in a "prequel" to the Psycho movie hit the nail right on the head, and the show really gives you just the right amount of crazy to undoubtedly leave you wanting more and more.