SAD GIRL'S DREAMS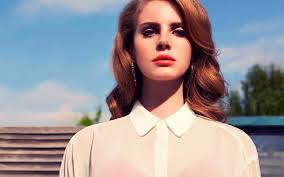 I must preface my thoughts on this record, which I happened to love, by saying that I am, in fact, a recovering Lana Del Rey hater. That's right, I dissed this girl with all my heart before sitting down to give her an honest listen. The product of this decision was the birth of a beautiful new love for Lana Del Rey, and an odd craving for Pabst Blue Ribbon. Lana's new record, "Honeymoon," is a wonderfully skeletal pop record that feels emotional, trashy, and beautiful.
"Honeymoon" has a minimalist feeling about it, especially in song structure. There are many piano ballads here, but these songs are defined in that instead receiving the very tried-and-true "breathy indie singer girl" formula, we're given very soulful laments to lost lovers, my favorite being the track "Terrance Loves You." Another wonderful high on the record (pun intended), is the trap influenced "High by the Beach." This cut is an incredibly catchy and danceable tune, and is the epitome of Lana's trashy side. The trashy side causes her to shoot herself in the foot, sadly, as there are a few duds in the track listing, the most notable being "Music to Watch Boys To." This track has an absolutely cringe-worthy chorus, actually using the term "soft grunge." The upside is that though the lyrics are pretty abysmal, I'm still gleefully hypnotized by the trap style beats.
To restate my overarching message to the Lana haters out there: calm your salty selves. Lana isn't out here trying to sound edgy like Halsey; she's just a sad, sad girl with a love for Pabst Blue Ribbon and a gaping hole in her heart. Give the record a try, because I found it to be fantastic.