TAKE ME HOME, CROSS COUNTRY ROAD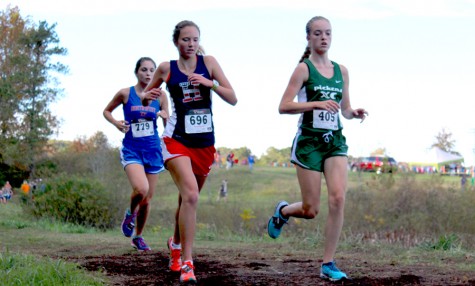 K. Carter
October 30 was the regions cross country championship meet, and definitely very anticipated for every team attending. Schools from all across the area raced against each other in order to determine what teams could compete in the state meet next Saturday. The varsity boys' 5k began at 4:45 p.m. Once again, Ryan Gebelein took the lead, but this time another runner from Pickens County managed to stay with him. In the end Gebelein placed second and did not break the school record; however, the team's victory in all canceled out this minor defeat. Devin Swafford placed third, and Jerryd Tennyson came in sixth.
The varsity girls raced next at 5:15 p.m. Sarah Buckler came in third at 20:35. Alex Gass was fourth. This meet didn't seem to be giving many Heritage runners personal records, but just like the boys, the team results as a whole disregarded this.
JV boys and girls competed together 5:50 p.m. in a mixed race. Lacey Rooks came in first for the girls' division, and Caleb Buckler came in ninth for the boys. Next were awards–the thing most people had been waiting for all night–to establish which teams go to state.
The boys came in first overall at regions for the first time in school history, meaning that Ryan Gebelein, Devin Swafford, Jerryd Tennyson, Avery Dickinson, Kurt Bacha, Caleb Boyd, Caleb Buckler, and Hagen McKinney will be going to state. This was a very exciting time for the generals. The girls' awards were next, and without a surprise, they also came in first overall. Sarah Buckler, Alex Gass, Noor Sabeeh, Hannah Smith, Skye Remko, Caylee Carpenter, Lacey Rooks, and Katelyn Thompson will all be going to the state meet.  All in all, this was an incredibly thrilling night for the cross country team, knowing that all of their hard work had paid off, allowing both teams to race at this upcoming state meet.