SMALL BUSINESS SPOTLIGHT: ABOVE THE RIDGE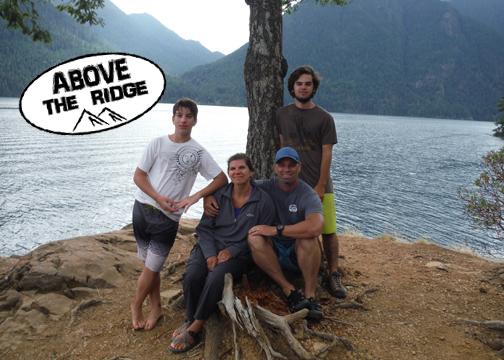 I would gladly like to draw attention to one of my favorite stores among the streets of downtown Ringgold. This unique, family-owned little store can be found at 7787 Nashville Street and goes by the name of Above the Ridge. The store is essentially an outfitter that offers various brands of a very high quality, along with some of the best customer service that I have ever experienced. The owners along with their few other employees are so genuine and they make sure to hold their customers' needs as their top priority. I personally feel that this honest genuineness is rooted in their deep passion for the outdoors that started it all.
Above the Ridge actually originated as on online store in the early 2000s. Brandon Shirey, a co-owner of the business, reflected on this time by stating that "by 2005, having been in the business world for long over a decade, I had seen how things had changed for consumers, so we started something we felt was missing." The storefront opened and the Ringgold community was then given the opportunity to have access to any of their outdoor-related needs with convenience, at very reasonable prices as well. As mentioned before, Above the Ridge withholds a large variety of high-quality brands like Chaco, HippyTree, and more. As a matter of fact, they are the North Georgia and Chattanooga area's largest dealer for a few brands such as KAVU, Sock Guy, and Darn Tough. It is clear to see that this business carries a plethora of brands and likewise, a more specific list of their products could go on and on. Some of my favorite things that Above the Ridge has to offer include lifestyle apparel, footwear for hiking, bags and totes, and even gear for dogs. Mrs. Nina Shirey, the other co-owner, suggested how they are hoping to add more rock climbing gear, snow sports gear and services, and possibly even a renting system for kayaks in the future.
Once again, the environment within this store is genuine and truly outstanding. A constant goal of theirs is to simply get people outdoors in a way in which they are prepared and eager to explore. Brandon explained this idea wonderfully: "Customers can expect a true personal engagement with extremely friendly service, local knowledge of the outdoors surrounding our area, and great product knowledge to help them get outdoors. We are there to listen to the customers' needs and offer the right gear that helps our customers to experience the outdoors better or enhance their lifestyle, without any hassle whatsoever."
Without a doubt, Above the Ridge is definitely one of a kind. For anyone who enjoys the outdoors, is interested in learning more about it, simply likes to support small and local businesses, or all of the above, I would highly recommend stopping by as you will not regret it. Their hours are 10 a.m. – 6 p.m. on Mondays – Fridays, 10 a.m. – 5 p.m. on Saturdays, and they are closed on Sundays; their website, www.abovetheridge.com is open 24/7. Now do yourself a favor and get outdoors!