I'M NO LONGER A MISFIT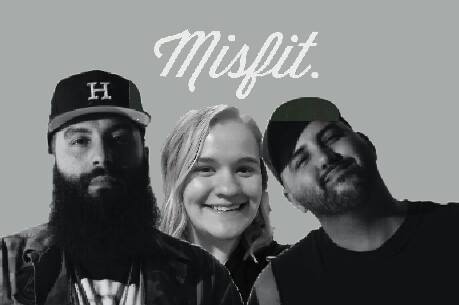 Marty and Fern, who now present themselves by "Social Club Misfits," know that they don't really fit into any of the well known hip hop circles. The currents are often let out without rhyme or reason, the music is a combination of corny and hybrid, and the overall album is unique in many of its aspects. The team has gone the indie route for so long, and their recent grab onto a major label has left many fans wondering if consumers would stay true to themselves or try to jump into the mainstream flow of rap tunes. Fans can rest easy as their first full length album; titled "The Misadventures of Fern and Marty" is a straight up album and one that forever fans will enjoy.
"Misadventures" starts with a typical Social Club Misfits track, with standard rhymes and the glide Marty and Fern are known for. If you toss in a perfect message for the misfits of the world and you have a complete song to introduce the fifteen-track album. Throughout the entire album, you'll hear references to Miami, being a misfit, the Yankees, and lots of fun, but ultimately the idea of God's unending love for us is prevalent. "Pop Out Revenge" comes along with that corny-yet-clever theme that often delivers perfectly while "Who Else" features Andy Mineo, and the trio collaborate on a great track with clever joke like, "you look like a Men in Black alien trying to blend in on earth," which anyone can't help but laugh at. "Tree Giants" is featured on "Different People" in an awesome track about marriage, love, and family. Fern rhymes specifically about marriage goals that we should all strive for, and Marty drops the memorable lyric, "she passed the Sonny test that's an old move." Tree Giants and Mineo are just some of the great artists that help make this album complete.
As always with Social Club Misfits, the recurring themes of God's love, the importance of family, and loving others are pushed home directly while still enjoying life and having fun. Standout tracks speaking to those ideas would be "A Song for Cami," "Usual Suspects" and "Wayyyyy Back." With the album having fifteen tracks, I'm sure not everyone will love every minute of this album, but the flaws are very few and can easily be forgotten about. Not everyone will love the unique style, but this was the first time I have listened to the Social Club albums, and it was better than I expected, because I'm not into the hip hop genre typically. It's definitely worth picking up if you are into the hip hop genre at all. The album can be played out nicely on repeat with a handful of real tokens tossed in.