COMIC CON (EAST RIDGE EDITION)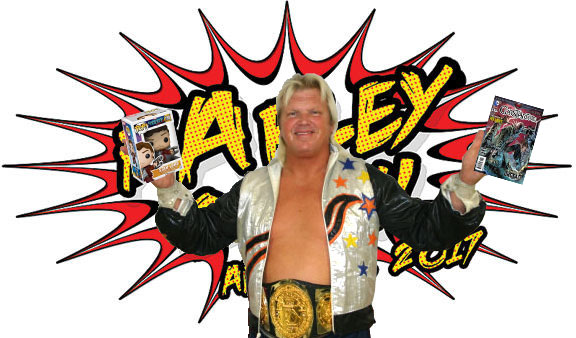 Ian Shank, Entertainment Editor
April 26, 2017
Rocky Spurlock and his good friend Jared Allen had similar interests, the first being pro-wrestling (They were both professional wrestlers) and the heroes/villains from "Star Wars," "G.I. Joe," etc. Spurlock said "Jared went to comics conventions to sell toys and merchandise." He went on to say that "[Jared] and I talked about doing a combined wrestling and comics convention." Unfortunately, Jared Allen passed away in February of 2016. Spurlock said he wanted to do something to honor which led to the conception of Farley Con. The first one was held in April of 2016. The second Farley Con will be held this Saturday, April 29.
The event will take place at the East Ridge Community Center from 9 AM-6 PM. Celebrity guests include professional wrestler "Beautiful" Bobby Eaton, "Walking Dead" actors/actresses Keith Brooks, Kaylie Turner, Billy Holt, and Tim Pilkington, cosplayer/model Bella Sparkles, artist Matthew Atchley, author Bobby Nash, and many more.  There are a ton of vendors including Con Nooga and East Ridge's own The Underground Lair. Vendors will be selling comics, comic-based merchandise, Vintage and superhero toys, wrestling merchandise, etc.
Farley Con will open its doors to the public at 9 AM and will close at 6 PM. The event will take place at the East Ridge Community Center. The cost to attend is $10 for adults and children 12 and up but any child under 12 can get in for free with a paying adult. Down below is an attached copy for the schedule for Farley Con.
Farleycon Schedule of events:
9:00 a.m. Doors open to public
10:00 a.m. – 11:15 a.m. Starship Farragut "Conspiracy of Innocence" screening followed by Q&A with Author Bobby Nash
11:30 a.m. – 12:15 p.m. The Walking Dead panel
12:30 p.m. – 1:15 p.m. Beautiful Bobby Eaton Q&A
1:30 p.m. – 2:15 p.m. Keith Brooks Q&A
2:30 p.m. – 3:15 p.m. Cosplay Contest
3:30 p.m. – 4:15 p.m. Matthew Atchley Q&A
4:30 p.m. – 5:00 p.m. Charity Auction
6:00 p.m. – Dealer room closes