DEFINITELY NOT MY BABYSITTER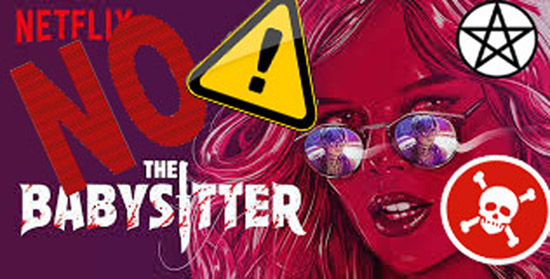 So yet again, there is another movie that has been released on Netflix; this one being called "The Babysitter," and trust me . . . you do not want this lady to be your babysitter. This movie was released on October 13th, of 2017: of all days, Netflix released it on Friday the 13th. This movie is about a twelve year old boy named Cole, who isn't exactly the most popular kid and has a very attractive best friend named Bee (who is an older teenage girl) who just so happens to be his babysitter. Cole's parents decide to leave for a few days for a parent getaway to relax, and Bee is Cole's babysitter, which is a bit embarrassing for him because what twelve-year-old has a babysitter? Anyways, things are fine and dandy when Cole's parents leave; he and Bee have fun and goof off. What Cole doesn't know is that Bee has a plan for him. He was supposed to get knocked out flat from a drink (that he didn't drink) and get his blood drawn. Well, he wasn't knocked out, and so he saw Bee and her friends that she invited over murder a teenage boy. This isn't good for Bee and her friends, so ultimately they have to kill Cole. Cole is in for the fight of his life against five blood-craving teenagers who want him dead and he must use his smarts to let me continue to live and not get murdered. Does he survive through the night? That's for you to watch and see for yourself.
This movie, in my opinion, was absolutely amazing, thrilling, and hysterical. There was so much humor in this movie that makes you wanna laugh every thirty seconds, but it also gets you anxious for the next moment. Cole is a smart kid, a kid genius pretty much, so he knows how to blow some people up, and I mean that quite literally. I love a good action, horror-based film that is very humorous as well, sort of like the "Scary Movie" films. So if you like a good humorous movie and can handle the sight of blood, I highly recommend watching this movie.