CAN GOD FORGIVE US?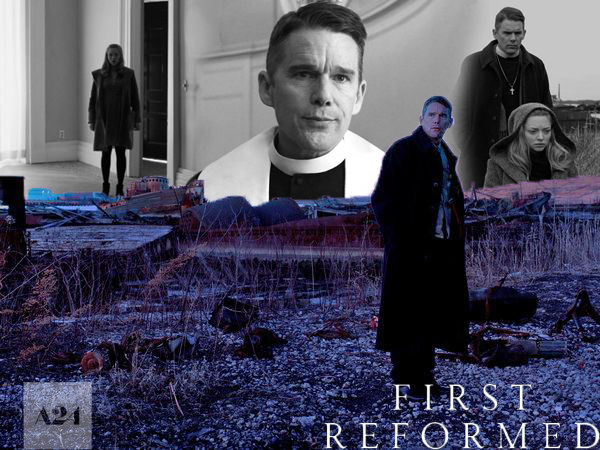 Ian Shank, Entertainment Writer
August 23, 2018
A white church sits on a hill next to a graveyard that looks as if no visitor has stopped by recently to pay their dues. Inside is a crawl space used to hide slaves during the time of the Underground Railroad, but now the crawl space is as empty as the church itself. The church mostly functions now as a place for tourists and classroom field trips so the students can learn about the church's role in the Underground Railroad. The church's souvenir shop offers merchandise to those that stop by, including a shirt (with only one size available—a small) and a hat (one size fits all). That's exactly what the church would be—a souvenir shop—if it weren't for Abundant Life, a mega church with John 10:10 inscribed on its exterior and a portion of Acts 2 emblazoned on its cafeteria walls. Abundant Life generously helps this small church. The Pastor of First Reformed, Reverend Toller, is more than that. He's the church's handyman, plumber, and counselor. Only problem? He's also an alcoholic who happened to have lost his son in Iraq a few years prior. One Sunday, a woman, Mary, comes to Reverend Toller after service, asking for Toller to talk to her husband . . . an environmental activist who wants to abort their baby out of fear of what may come from climate change. He recommends Michael, the husband, goes to see one of the professionals at Abundant Life. Abundant Life, in Michael's eyes, is more of a company than a church, but Toller feels like a man actually doing God's will. After a meeting, Mary calls Toller to her house when Michael is out. An explosive device sits in her basement. The creator of this device: Michael. Having seen the radical views and actions of Michael, Reverend Toller experiences a bigger challenge than he's ever experienced: a crisis of faith.
"First Reformed" is Paul Schrader's newest film. For those that don't know, Paul Schrader wrote the screenplays for many films done by Martin Scorsese including "Taxi Driver," "Last Temptation of Christ," and "Raging Bull." He also directed "Mishima: A Life in Four Chapters." Here he delivers a thought-provoking, spiritually-wrenching film if there ever was one. Paul Schrader is able to command the screen and write a powerhouse script that truly delves into the psyche of a man experiencing a crisis of faith.
Not since Paul Thomas Anderson's "There Will Be Blood" has there been a film that featured an actor that truly takes over the screen and commands every frame time and time again. Ethan Hawke is one of the best things about this movie. His performance is authentically realistic. He shows the inner emotions of Toller through excellent use of body language and an exhilarating voice-over featured prominently. Come awards season, one can expect to see Hawke on many Best Actor lists.
Amanda Seyfried is also not to be forgotten. Seyfried plays the wife of Michael, the disturbed environmentalist. She carries a lot of the emotional weight of the film. Her performance is truly gut-wrenching.
"First Reformed" is an absolute masterpiece of film between Hawke's dynamic acting abilities, Schrader's script, and a sequence involving a psychedelic, new age-style ritual. Paul Schrader truly is an artist able to bottle up many themes to deliver a film about environmentalism, religion, despair, and hope.