GUNN CONTROL
Hang on for a minute...we're trying to find some more stories you might like.
Earlier this summer, James Gunn, the director and screenplay writer for "Guardians of The Galaxy" and "Guardians of The Galaxy: Vol. 2" was fired by Disney Studio Chairman Alan Horn and CEO Bob Iger after an alt-right personality "discovered" (more on this later) some highly-offensive jokes that he made from a period of six to ten years ago (none of which will be displayed here) on the popular social media site Twitter. Horn's official statement read: "The offensive attitudes and statements discovered on James' Twitter feed are indefensible and inconsistent with our studio's values, and we have severed our business relationship with him." This came as a shock to many film fans and those in the industry as it is a well-known fact that James Gunn has a great relationship with Marvel CEO Kevin Feige as well as the House of Mouse itself. In response to this, a petition on Change.org was put in place in hopes of Disney reversing its decision to fire Gunn. As of August 30, it currently has over 391,000 signatures with a goal of reaching 500,000. To make the situation even more interesting, Chris Pratt, Zoe Saldana, Vin Diesel, Michael Rooker, Bradley Cooper, Dave Bautista, Sean Gunn, and Pom Klementieff released a joint statement in support of Gunn. The statement opens with "We fully support James Gunn. We were all shocked by his abrupt firing last week and have intentionally waited these ten days to respond in order to think, pray, listen, and discuss. In that time, we have been encouraged by the outpouring of support from fans and members of the media who wish to see James reinstated as director of Volume 3 as well as discouraged by those so easily duped into believing the many outlandish conspiracy theories surrounding him." The members of the cast pointed out that they are "not here to defend his jokes of many years ago." To conclude the statement, the cast expressed their wish that: "Americans from across the political spectrum can ease up on the character assassinations and stop weaponizing mob mentality."
Other actors and actresses have come to support Gunn as well. "Hellboy" actress Selma Blair, who was one of the many woman to tell their stories of harassment, tweeted when news broke of his firing that: "This man is one of the good ones." Glenn Close, who played a minor supporting role in the first "Guardians of The Galaxy," spoke out against Disney's decision saying: "It's hard to think of it without him. It's sad. And it brings up, I think, some very tricky issues around this movement. I bring it up with every woman I talk to because I want to know what people feel, you know? Is that truly what we should be doing? Especially in this case, somebody who's known to ruin people for something that they wrote in a totally different context, what, ten, 12 years ago? What are we going to do, go back to our pasts and make sure that everything we said was politically correct? Who can live like that? I just feel that there's something wrong about that."
Dave Bautista, who plays the role of Drax in the "Guardians" films, has been the most outspoken of the pack by starting a long thread of tweets in late July by first tweeting that James Gunn "is one of the most loving, caring, good natured people I have ever met. He's gentle and kind and cares deeply for people and animals. He's made mistakes. We all have. I'm NOT ok with what's happening to him." His tweets went from supporting Gunn to attacking Disney for its decision. In early August, Bautista tweeted a second time lamenting how he felt about Disney and having to work under them as well as addressing the question on whether he will be in "Volume 3": "I will do what I'm legally obligated to do but @Guardians without @JamesGunn is not what I signed up for. GOTG w/o @JamesGunn just isn't GOTG. It's also pretty nauseating to work for someone who'd empower a smear campaign by fascists #cybernazis. That's just how I feel." In an interview with Shortlist, Bautista said he would ask Disney to be recast in the upcoming "Guardians" film if James Gunn's script wasn't used. He went on record saying "Where I'm at right now is that if [Marvel] don't use that script, then I'm going to ask them to release me from my contract, cut me out or recast me. I'd be doing James a disservice if I didn't." It was announced on August 23 that Disney would be keeping James Gunn's script.
The current status of "Guardians of The Galaxy: Volume 3" is that production of the film is on hold indefinitely. Dave Bautista broke the news via the news site, Digital Spy, saying "It's kind of a strange situation to be in now where we've lost our director for 'Guardians.' 'Guardians 3' is really up in the air, and I don't know what they're going to do with it. It's on permanent hold for now, and that may make a difference in what they do with our characters in 'Avengers 4.' To be honest with you, right now I really don't know. But I know I'm in 'Avengers 4.' I've shot most of it already. I do have two days of reshoots. But other than that, I have some really great scenes that I hope they use. But I guess that it remains to be seen what they'll do with the characters." "Guardians of The Galaxy: Volume 3" was supposed to be released in May of 2020 and would help jumpstart Phase 4 of the Marvel Cinematic Universe, or as it's most commonly known as — MCU.
What one has to consider when forming an opinion on the controversy involving James Gunn is that Disney is a business and has every right to do what they feel is necessary to protect their family-friendly image that they have built their brand on and pride themselves on. If anyone were in Horn's shoes hearing about these tweets for the first time, they would have made the decision to fire Gunn as well. However, Disney already knew these tweets existed, and the only reason these tweets came to light was because of a smear campaign by right-wing commentator Mike Cernovich in order hurt Gunn because he is an outspoken critic of President Trump. Back in 2012, several of those comments he made in 2011 came in view of the public eye, and he apologized for them, writing: "A couple of years ago I wrote a blog that was meant to be satirical and funny. In rereading it over the past day I don't think it's funny. The attempted humor in the blog does not represent my actual feelings. However, I can see where statements were poorly worded and offensive to many. I'm sorry and regret making them at all . . . We're all in the same camp, and I want to do my best to make this world a better place for all of us. I'm learning all the time. I promise to be more careful with my words in the future. And I will do my best to be funnier as well. Much love to all – James Gunn." As one can see, Gunn clearly had already addressed the kind of comments that has landed him in hot water before, and Disney was fine with keeping their business relationship with him as he went on to direct both of the "Guardian of The Galaxy" movies and was allegedly supposed to play a significant role in developing the cosmic universe in any future Marvel films and/or any future Phases in the MCU. Having fired Gunn six years after already apologizing for the tweets he made anywhere from up to a decade ago shows the significant amount of incompetence Disney has when it comes with dealing with their directors and handling situations that clearly have a political bend to it. For any that may be unaware, Roseanne Barr was fired and had her newly rebooted show, 'Roseanne" cancelled after making a racist tweet towards a former Obama-era official. Roseanne Barr is well-known for having some outspoken conservative opinions. So, Disney, having felt backed into a corner when a right-wing commentator "discovered" tweets made by a frequent critic of Trump, made the wrong choice and punished a man that had nothing coming to him. Instead of saying: "We as a company do not agree with the statements made by James Gunn, but he has apologized for these tweets and has changed as a human being; thus, we will continue with any plans for his involvement in the Marvel Cinematic Universe." Simple enough, but no. By firing Gunn, Disney essentially said, "Well, we had already fired Rosanne, so we have to fire Gunn in order to avoid the media circus."
By also firing Gunn, Disney is acting very hypocritical. They have made films with content that might be considered offensive by some. A few examples is the crow named "Jim" in "Dumbo" and the depiction of Native Americans in "Peter Pan." The most notable example however, is their controversial "The Song of The South," the film that inspired the now classic Disney attraction "Splash Mountain." "The Song of The South" takes place during the Reconstruction Era and contains racist undertones. How racist? When the "Splash Mountain" ride was set to open, the NAACP (National Association for the Advancement of Colored People) protested, and due to the undertones, there has yet to be a DVD copy available for purchase in American markets.
In his op-ed video on YouTube, "Was James Gunn's Firing From Guardians Right Or Wrong," film critic John Campea made three points from Gunn's position. The third was: "As a society we WANT people to learn from their mistakes, to grow and to change as a result of them." James Gunn did that. He apologized for the comments that he had made and as a result grew into a better human being. What more can he do?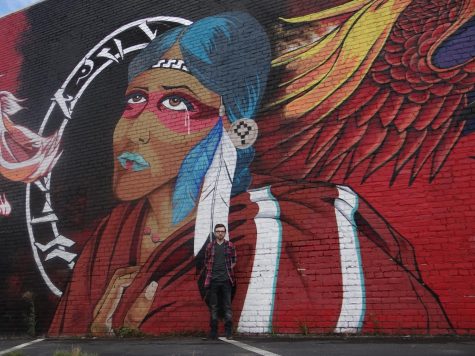 Ian Shank, Entertainment Writer
This is Yearbook Editor-In-Chief Ian Shank's sixth time in Heritage's Journalism class. Having been a participant in the organization since freshman...