Making A Model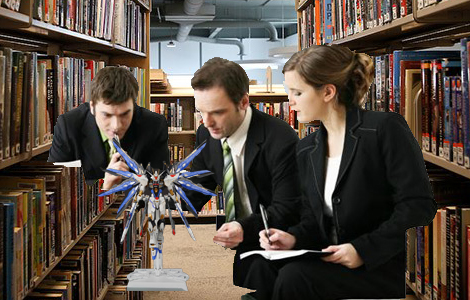 This year at HHS, a new club has been made. No it's not the returning chess club or Bruce coming back to do Nerd Herd, though it would be nice, this club is the Model Kit Club. Originally called the Gunpla Club, for what the main models (Gundams) are called, it was created for us lovers of doing model kits. The main purpose of this club is for the members to show their skills of making a model, doing wacky or cool poses with them, and if they ever wanted to, a personal custom version of the kit.
The Model Kit Club has very few members. They're currently at 6 student members and Ms. Wolfe, another member of our club. Samuel Mansi, our club leader, created this club with Mr. Douglass who has helped set this up for him and the rest of us alike. Samuel originally made the club for veterans of model kit builders to help him and give tips. He didn't expect it to be as somewhat big as it is.
The club meets every Thursday in the library. They get their models out, get their tools too, and start building. Samuel and his mother have helped out the club by getting the main tools, the clippers or nippers, and some tools to help them steadily place the dreaded stickers. One member of our club, Alex Hall, is very much a veteran of this. He has built a number of models and his house has at the very least 2 rooms full of Gundams.
"Even though the club meets on Thursdays, we can still work on our models as long as we ask Mr. Douglass" Samuel has said. It is nice working on a kit every once in awhile, but when you're tight on time it does get kinda frustrating. For a beginner, like many people of the school, a model could take up to three or four hours to complete. For Alex Hall, it could take him one or two hours. 
There are many versions of a kit as mentioned above with the High Grade or HG. There's SD or Super Deformed, HG or High Grade, RG or Real Grade, MG or Master Grade, and PG or Perfect Grade. Each size variant differs with detail, complexity, and of course size. The hardest but most beautiful ones are PGs. You have a lot of articulation in these ones of course a lot of time is needed. MGs are a little smaller than a PG, but they are still very detailed. Everything below gets smaller and lose a bit of very small details, but they are fun to pose and/or customize.