The Fall of Netflix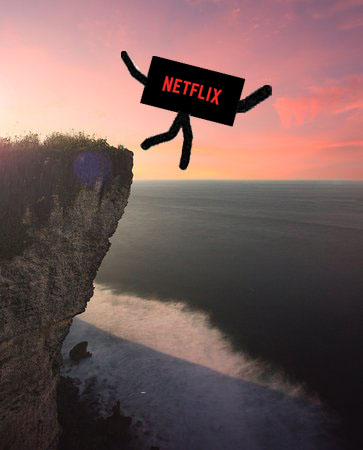 Everyone loves watching their favorite shows on Netflix, but have you noticed when you're searching for a new show, or a new movie to watch, there's just not as many as there used to be? Well, many TV shows and movies like "The Office" and "Friends" were announced to leave Netflix.
"Friends" and "The Office" were voted the top two most popular shows on Netflix in 2018 and now they're leaving. The new upcoming service HBO Max are taking on "Friends," the launch will be available around March of 2020. "The Office" is being taken off in 2021 to launch its own streaming service with NBCUniversal Peacock; Some say that the new streaming service could start trouble for "Hulu" and possibly end "Netflix" for good. Other titles leaving Netflix include, "Bare Knuckle Fight," "Border Patrol," "Botched up Bodies," "Bringing Sexy Back," "Casanova," "Clash of the Collectables," "Court Justice," "Diva Brides," "Fantastic," "Ghost Town Gold," along with many more.
 People often wonder why these shows and movies get taken off of Netflix; the reason why they get taken off is because Netflix no longer has ownership of the movie or TV show. The producers of the show or movie either don't want them to keep putting it on Netflix or it simply gets too expensive for Netflix to keep paying for the ownership. Last year Netflix paid around 100 million dollars in 2018 to keep "Friends" up until January 1st, 2019, after everyone's concern that it was leaving, they decided to pay for another year, which was another 30 million. So, in this case it was getting too expensive and probably hurting Netflix more than helping them. Overall, "Friends" and "The Office" aren't leaving the streaming community, they're just moving to a different streaming service; and many other of your favorite shows as well, so maybe Netflix is falling in the ditch. Maybe it is time to switch to a different streaming service.