Transmissions from the Bottom of the Ocean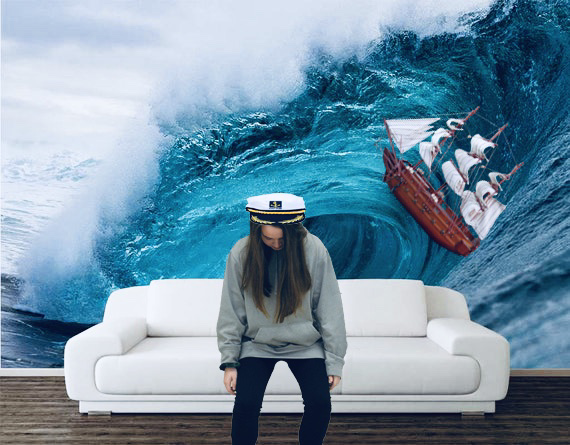 Modest Mouse is an American rock band formed in 1992 in Issaquah, Washington and currently based in Portland, Oregon. The founding members are lead singer and guitarist Isaac Brock, drummer Jeremiah Green, and bassist Eric Judy. Strongly influenced by Pavement, The Pixies, XTC, and Talking Heads, Modest Mouse rehearsed, recorded, and rearranged demos for almost two years before finally signing with small-town indie label K Records and releasing numerous singles.
Since their 1996 debut "This Is a Long Drive for Someone with Nothing to Think About," the band's lineup has centered on Brock, Green, and Judy. (Judy performed on every Modest Mouse album until his departure in 2012.) The band achieved mainstream success with their fourth album "Good News for People Who Love Bad News," thanks to its singles, "Float On" and "Ocean Breathes Salty." Guitarist Johnny Marr, known for his work in The Smiths, joined the band in 2006, shortly following percussionist Joe Plummer and multi-instrumentalist Tom Peloso, to work on the album "We Were Dead Before the Ship Even Sank." Marr stayed in the band for only a short time, and guitarist Jim Fairchild joined the band in 2009. The band's sixth album "Strangers to Ourselves" was released on March 17, 2015.
The band released their breakout fourth album, "Good News for People Who Love Bad News," on April 6, 2004. The following August, the album was certified platinum, and it was also nominated for a Grammy Award for "Best Alternative Music Album" that year, with "Float On" nominated for "Best Rock Song." The public radio program NPR Marketplace used "Float On" as bumper music, which helped propel the group to a broader audience. 
Modest Mouse released their next album, "We Were Dead Before the Ship Even Sank," on March 20, 2007 after its original release date of December 19, 2006 was delayed. The album also included a bonus track and single "King Rat." "We Were Dead Before the Ship Even Sank" was the first Modest Mouse album to reach No. 1 on the US Billboard 200 charts and featured the hit single "Dashboard," as well as "Missed the Boat" and "We've Got Everything." 
The band began a North American tour in June 2008. Modest Mouse finished their tour supporting "We Were Dead…" after two years of promoting the record. Jim Fairchild replaced Marr as official guitarist after the latter left the band and joined The Cribs, beginning with the tour of the EP "No One's First and You're Next," which was released on August 4, 2009 and was  composed of unreleased tracks from the recording sessions of "Good News…" and "We Were Dead…" 
"We Were Dead…" seems to have an overarching story and concept behind it. The first track on the album, "March Into the Sea" is all about the emotions and behavior of someone else. This person is described as "salty and mean" in the song. The man that this is describing also seems very sad and lost. The speaker says that he "wish[es] death on myself," and sounds of laughing come in after this is said. It seems that this song is about someone that is very angry and lost, and maybe even depressed.
This album shows symbolism and metaphors, along with stories, which is why it is absolutely genius and so creative. For example, in the song "Missed the Boat," Brock says, "Everyone's unhappy / Everyone's ashamed / Well, we all just got caught looking / At somebody else's page / Well, nothing ever went quite exactly as we planned / Our ideas held no water but we used them like a dam." This verse in the song uses symbolism, with him saying that nothing went like he wanted it to, and that their ideas held no water, standing for something else, but they used them like a dam, not literally a dam but like one. The symbolism is shown a lot on this album in each song. Each song on this album is very unique and has a completely different sound and story. The song "Little Motel," for example, is more slow, sweet, and relaxing. "Education," on the other hand, is more of an upbeat and energized song. 
Modest Mouse have been touring and performing as a band for over twenty years now, and their own brand of indie rock continues to delight and satisfy fans, as they appear as popular now as ever. Since 2019, the band has released three new singles in anticipation of a probable new album. On March 29th, 2019, the band released "Poison The Well"; on April 18th, 2019, they released "I'm Still Here"; and, finally, they released a third single, "Ice Cream Party" on November 15th, 2019.