Slowing Down with Allie Boyd
When many people go into high school, they start to count down the days until they graduate and go away to college, but not freshman Allie Boyd. Allie wants to slow down and really appreciate the next four years she has here at Heritage. Four years from now, she doesn't want to look back at what she didn't do. She plans to take advantage of every opportunity that comes her way. In fact, Allie has already done so by being elected secretary for the class of 2024!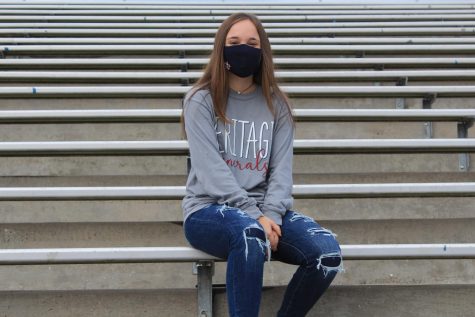 Allie finds it easiest to express herself through music, painting, and writing. Allie and her family are very close, and one way that they enjoy spending time together is by listening to all different kinds of music. Music is almost always playing in their house, whether they are cleaning, cooking dinner, or playing a family game of cards. 
"I really love late nights listening to music with them and playing cards," Allie said.
Allie's whole family enjoys playing cards, in fact. They find it competitive, and it is one of their favorite ways to come together and spend time with one another. While the music plays, they find themselves all singing along to some of their favorite songs. 
"It's just a really happy and uplifting space that we create together," Allie said.
Sometimes they find themselves just sitting together watching old music videos. Some of their favorite artists to listen to are Matchbox Twenty, Blind Melon, No Doubt, and Fleetwood Mac. When it's just her and her mom, they usually listen to Taylor Swift or some of her mom's favorite artists from when she was a teen such as Avril Lavigne, Fiona Apple, and Alanis Morisette. 
Allie also enjoys spending her time painting. Over Christmas Break, she remembered she had a canvas lying around in her room. She started out by painting landscapes but soon discovered that was not what she wanted to do. She then started painting random things she saw or certain parts of a movie she had just watched. Her first ever painting was of "Stranger Things" because she had just finished binge-watching the show. Her favorite painting, however, is an album cover from the band Calpurnia, which she changed the background of to make it unique and her own. She started putting the paintings on her wall, and she has a large amount of her walls filled with paintings. 
For almost a year now, Allie and her friends have been working on a few different stories. One story, which they are sixty pages into writing, is titled "Collided Realms," and it is about different realms that are all at war with each other. Another story she is working on is about a group of teenagers who break into Lake Winnie on Halloween, and they eventually meet their end. She and her friends hope to finish these stories one day, and maybe even write more. 
Allie has always found herself writing stories ever since she was little. One of her book ideas came to her while she was watching "The Hobbit," and she felt it was something she didn't want to do alone. She asked her best friend, Claire, if she wanted to help. 
"We both became obsessed with writing stories together and bringing characters to life, so we just kept writing," Allie said.
The process has been slow for her and Claire. Sometimes they find themselves going through writer's block. Not only that, but with school starting back, they have struggled to find the time to write. 
Not only is Allie talented when it comes to painting and writing, but she also plays soccer! "I love the overall idea of soccer and how it works, how everyone moves around the field," she said. When she was younger, she played for the local Ringgold Rec. team. She and some of her teammates discovered the Chattanooga Football Club and decided to join their team. CFC wasn't exactly what they were looking for, so they shifted over to the Nomads. After a while, she no longer found herself interested in playing soccer for a league, so she decided to only play school soccer. She was on the Heritage Middle School soccer team for all three years, and she hopes to play soccer this year at Heritage High School.
"I love having a team, and everyone becoming like a family," Allie said. 
Allie has a lot of plans for high school, and I'm sure if she continues to seize the opportunity, she can accomplish many things with all of her years at Heritage.