Meet Matthew Caraway
Matthew Caraway is trying to advance to the next level. Almost like a video game, everyone ends up having challenges in their lives including Matthew. He has had his own fair share of hardships like the rest of us, such as his dad getting deployed in 2011 due to the fact he's in the Navy. Matthew doesn't remember much from when his dad got deployed, but to be honest, who would want to remember something like that?  "It was really hard on my family, especially on Mom, so I did my best to make her smile as much as possible," Matthew said. He hugged his mom as tight as he could and told her, "Don't worry! I'll save dad from the pirates!" No matter what, he has a kind soul and does his best to always make someone smile, even if he hardly knows them.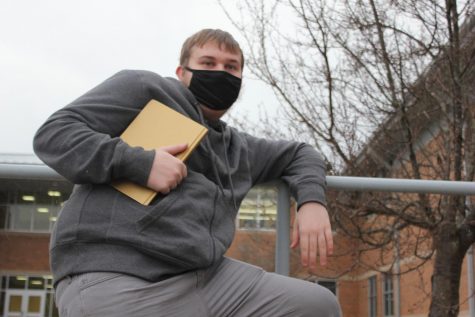 Matthew has multiple hobbies, one of them being writing! When asked why he enjoyed writing, Matthew replied, "I just enjoy being able to put my thoughts and feelings onto paper. It's sort of like an outlet for me." Other hobbies of his include drawing and playing video games such as Minecraft, Battlefield Five, and Call of Duty. Matthew also has two siblings, an older brother named Michael who attends  UGA and a sister named Kaylee who performs in the band here at Heritage. Although Matthew noted that they can be annoying at times, he has a good relationship with his siblings. After all, I'm pretty sure we all find our siblings annoying at least once. (There is one thing that connects the siblings though, which is basically when they do a certain laugh whenever their mom is angry or when they just playfully tease her.)
When asked about his main goal in life, his reply was a bit more unusual than most. "Although I haven't thought about it much, my main goal in life is to make people happy! None of us really know what's going on in someone else's life after all," Matthew said with a smile. 
Matthew has a very cheerful personality that could easily reflect on anyone.  Although I didn't know much about him until this interview, I could already tell he was pleasant to be around due to his outgoing personality. Even though Matthew was born in Virginia, I'm proud to say that he is now a fellow General and friend that has definitely made a mark on my life and on the Journalism committee. I honestly can't wait to see what his next "level" in life will hold for him.