Going the Distance with Miles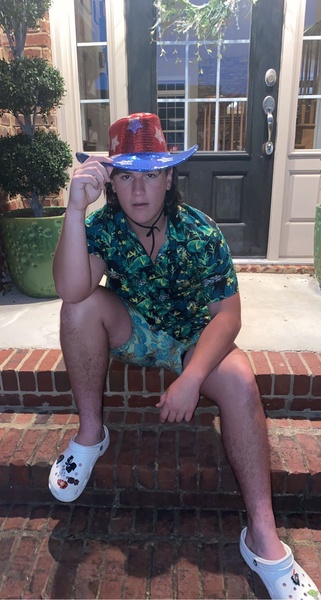 Miles Clark is getting ready for his first football game of the season. He's practiced so hard to go and beat LFO. The next day, he finds out the game is cancelled. Miles does not let this get him down though. Instead, he finds new ways to help out the team, as well as keep up with his other responsibilities. 
Miles has very many responsibilities like being a football player and being the president of the Sophomore class. During "times like these," it is hard for Miles to keep up with these responsibilities, considering school is not staying open consistently. Yet Miles is still able to keep up and exceed in these activities. 
Miles was born in Dalton, then he lived in Calhoun for a while. 10 years ago, Miles moved to Ringgold. Moving to Ringgold changed his life because of all of the friends that he met and being with his family here. "I was fairly young so I remember not being too upset about [the move]," he said. One thing Miles would like to change about his upbringing is that he would have liked to start playing sports earlier.
He likes going to Heritage because of all of the activities like football, being a class officer, and Journalism. After high school, Miles does not have a solid plan, but he does look forward to being more independent. Miles may not have a solid plan, but he has thought about being a world history teacher or a coach. Miles' favorite teacher is Mrs. Brown because she helped him a lot whenever everyone had to do digital learning. His favorite class is Journalism because he gets to do his own thing and be independent with his work. 
Outside of school Miles can be seen hanging out with friends who are super funny and always there for him, going out to eat at Applebees (he loves their boneless wings), and playing video games like Star Wars Battlefront 2 and Splitgate. Miles strives to be kind to everyone he is around to make them feel welcome. Miles also loves to be with family. He lives with his mom and his sister, who are both very kind. Not a lot of people know this, but Miles is actually a self-described "nerd." He loves "Star Wars," "Breaking Bad," superheroes, etc. Miles' favorite musical artist is Kanye West because he is a very universal artist who can make a song in almost any genre.  His favorite song by Kanye West is "Through the Wire" and his favorite album is "My Beautiful Dark twisted Fantasy."
Miles is a very kind and easy-going guy. He is responsible and keeps up with all his tasks and does a really good job at that.