The First Day of a New Beginning
As the world finally returns back to normal, so does Heritage High School. It's been a difficult few years, but it seems that things are turning a corner. We return this school year with hopes for a new beginning or, in this case, back to normality before the world shut down. Both old and new Heritage Generals entered through the doors on August 8th. There was a mix of nerves and excitement in the air. As always, the student body gathered in the gym for the First Day of School Assembly. The seniors did their traditional walk into the gym as the lower grades congratulated them. Principal Bradford welcomed everyone back and discussed his aspirations for this school year. Then he passed the mic to the Class of 2023 Officers. President Jedd Johnson greeted his fellow students, Vice President Dylan Hodges commenced a moment of silence, June Lindroth led the Pledge of Allegiance, and Mady Raye Terry united the school in the alma mater. New teachers were then introduced by Mr. Bradford, they are as follows: Ms. Shearer, Ms. Lutgen, Mrs. Dillard, and Mr. Edwards, and the school day began.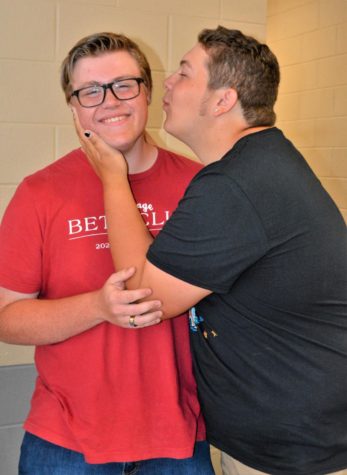 All the students headed back to their 1st block to participate in the Battle of the Bells, which was this year's First Day of School Activity. This activity gave students the opportunity to vote for what music they wanted to hear between classes. It was a very interactive and enjoyable experience for every student. Mrs. Peters was a part of the committee that planned the first day activity. She explains, "The idea of the first day activity is to get kids up and moving around in the building, especially the new students. It's so they can learn the school. We also wanted to make it fun and something the kids might enjoy." While most of the school was running around, listening to their favorite tunes, the senior class was in the cafeteria digging into their Annual Senior Breakfast. Overall, the first day of school was a success! Students are thrilled for the future of this school year, and hopefully it will be the best one yet!