Energize Your Morning at the HHS Café
Ever since Heritage High School opened its doors to the public a café has been in mind. The plan for a café with hot teas and coffee was always a well-thought-out idea by our media specialist, Chris Douglass, but the plan was not executed until recently. "One of the other schools in the county opened a café, so we thought it was a good opportunity too." Chris Douglass says.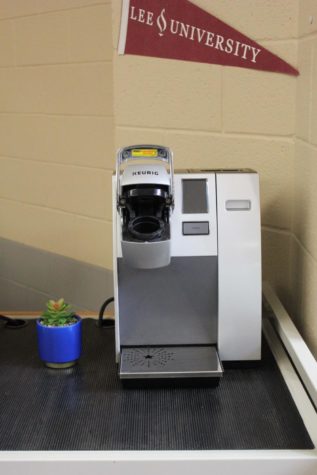 Some of the different items at the café include hot teas, hot/cold coffees, hot chocolate, different flavored creamers, and all sorts of flavorings to put in these tasty drinks. There are two different types of coffee they make. "Some people like more of a lighter coffee and some like more of a darker roast, we like to have a good variety for the students," explains Mrs. Shields. The different flavorings include French vanilla, salted caramel, and just a basic sweetener, they have the same flavors in creamer but add a sweet green. The café has chocolate drizzle and caramel drizzle, and shockingly they also sell hot chocolate & marshmallows!
Now let's get into the funds of this coffee shop! Most of the money that is made in the café goes right back into the café. All the drinks inside this coffee shop are just $1, and the funds left over are put into buying new things for the café.
This coffee shop is like no other, ranging from its different varieties in coffees, creamers, flavorings, teas, hot chocolate, and toppings. There is something for everyone. This café has many great attributes, considering the irresistible coffee, and the kind people that run it!