2023 Literary Team Boasts Two State Champions!
Many Heritage students recently competed in the 2023 GHSA Literary Competition. Literary is a competition where there are writing, singing, theatrical, and speaking events. There are two levels of competition. First, there is regionals, where each person goes against other schools in the region to compete. If someone gets first place, they go to the state level. This is where the pressure really hits hard. However, that did not stop some of our Heritage students from pushing themselves to be the best they can be.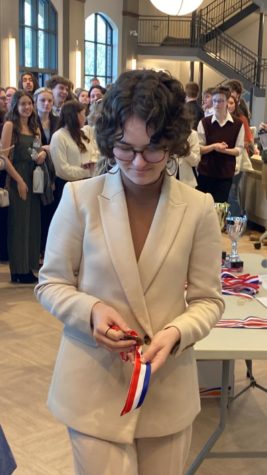 One of the students who competed was Sophomore Natalie Ferry. She competed in the international expontaneous exempt speaking event. In this speaking competition, Natalie had three large categories that her speech could have been about: China, the United Kingdom, and the Russian-Ukraine conflict. She had to prepare her information prior to the competition because she did not know her topic beforehand. Competitors first draw their speaking topic, and they can only use what they prepared. For example, her topic at State was "Will Russian military leaders push back if Putin wants to use nuclear weapons on Ukraine?" After she was ready to start, she had thirty minutes to write a speech. The judges would assess you based on organization, body language, content of the argument, and if it was an excellent speech. With all this pressure and hard work, Natalie came out on top; winning first at State after placing at the top in the regional competition!  Natalie said, "It's just this awesome feeling, and I have my medals and an ugly shirt. It's weird and fantastic and genuinely just a crazy experience." To be a sophomore and even compete at state is a big accomplishment. To win is a whole other story!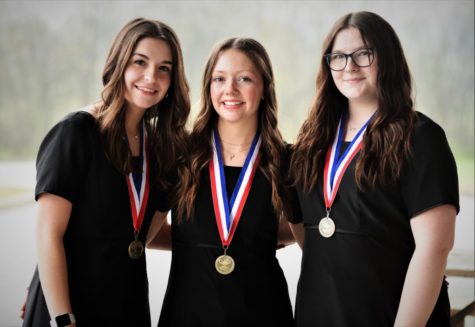 Heritage also had a Girls Trio compete, consisting of Sophomore Caleigh Jackson, Senior Avery Frost, and Junior Camryn McCormick. They performed two acapella pieces. The first was a Latin piece called "Ali Ali Ali" and the other was a Spanish number titled "Las Amarillas" in the state competition after getting first in the regional competition. They practiced for a long time and enjoyed every moment together, especially with it being Avery's last time. Since Avery is a Senior, this competition meant a lot to her. "The night before, we practiced with Mrs. Hamilton for an hour then went to my house and practiced until 10:30. Hanging out then and just having fun was my favorite part," Avery explained. Singing their hearts out in front of everyone, and practically at State, was such a great experience. Camryn McCormick said, "The excitement of getting on stage and performing [was my favorite part.]" Originally, the girls placed second. However, they later found out that they were really state champions!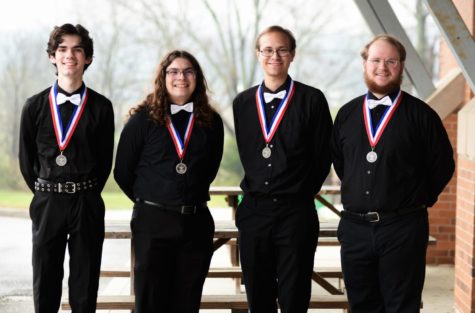 We also had another person compete in the singing competition; Gunter Hullender. He performed twice, one as a soloist and another as a tenor in the boy's quartet. This wasn't his first time going to the competition. He also competed as a soloist last year. "Getting that chance one more [time] this year was really big for me," Gunter said. For this to be his last year, he really showed what he can do with what he loves. Singing is his what he "loves to do" he explained. In the end of the competition, the quartet placed second and he placed fourth at region. 
Heritage had another competitor, Daniel Burlahurt, compete in the dramatic interpretation with a humorous monologue. In the competition, the competitors have ten minutes to perform a memorized monologue in front of an audience, and they are judged on how well they performed. Daniel got second place overall in region. "[The best part of the whole competition for me was] listening to the other monologues that were hilarious, and I love hearing the other schools and what they have to bring," Daniel said. 
We are so proud of everyone's place in the competition. Congratulations to everyone! Hope to see some of you plus some in next year's competition!