As the buzzer sounds off, the crowd roars, and the lights shine brightly, Ian Grant stares at the scoreboard. It was his first game seeing his favorite football team and the game had just ended. But he just couldn't believe the results of the game.
Ian Grant is a 14-year-old Heritage High School freshman and a new Journalism class and yearbook staff member. He is an adamant lover of Olive Garden, blending tacos, and the professional football team the Atlanta Falcons. He is passionate about his home, beliefs, and favorite sports teams. Grant has described himself as "weird, interesting, and somewhat smart."
Most notably, Grant is a huge sports fan. Most of all, he loves the Atlanta Falcons, which is his favorite football team. He recalls watching their games with his brother when they first started getting into the NFL. H said, "That's my team. I fell in love with the team, the players, the uniforms, everything." The players he loves the most are AJ Terrell, a cornerback for the team, and Desmond Ridder, a quarterback on the team. "He (AJ Terrel) is a good man, and he knows how to play good man-to-man defense." Grant also said Desmond Ridder "has good talent and good play style. This is [only] his second year, but I have high expectations."  Grant has only ever been to one game, and he said that while it was cool and an amazing experience, the team unfortunately lost to the Patriots, against whom Ian has a vendetta. "I hate Tom Brady," he said. "We had that Super Bowl in the bag. It was a dark day." Despite this intense love for sports, he is not currently involved in any school sports teams. However, he said he would be most likely to join the golf team here at HHS.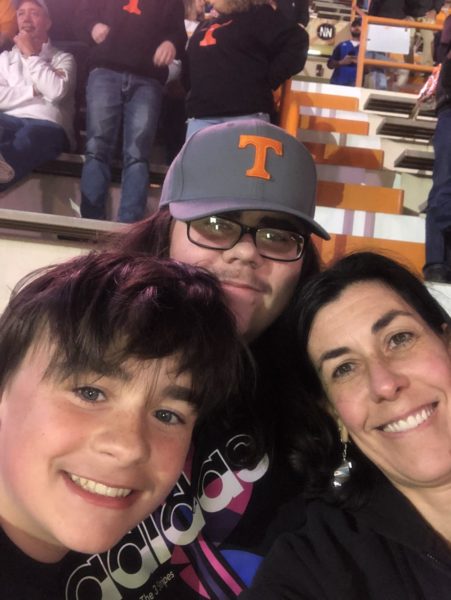 In his spare time, he enjoys playing golf and spending time with his family, which includes his mom, his brother Mason who graduated last year, and his cats, Survivor and Uno. He said, "They're very positive but very realistic in situations when it's needed." He also likes playing mobile games such as "Jailbreak," making art, and staring at the wall to ponder things, saying that the wall "really speaks to me." One of the things he ponders is what motivates him and what he would change about the world. He says that what motivates him is positive people. He knows that everybody is different and is their own person, and he loves to see people who are kind and accepting. He believes that people can talk about making a change all they want, but it is real positivity and effort that counts. He also said, "I would enjoy for this world to accept other people for who they are. No matter what they wanna be. And then also that everybody liked the Falcons, you know?"
Most of all, Grant loves Georgia. Georgia is his home state, and he only plans to leave to go to New York or Italy. He said, "Italy is Italy and Italy has Italian food, and I'm all about Olive Garden." He also wants to visit New York to see the Yankees and the Statue of Liberty. He said, "It has always inspired me, and I've always wanted to listen to 'Empire State of Mind' by Jay-Z featuring Alicia Keys while looking at the Statue of Liberty."