BACK IN BLACK (AGAIN)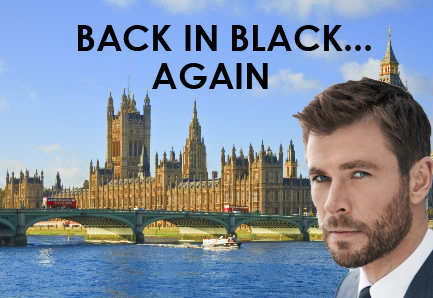 Hang on for a minute...we're trying to find some more stories you might like.
Sony Pictures has been making some serious progress on their planned(but still untitled) spin-off on the "Men In Black" series. The first two movies went well but lost steam with the third installment. As with many series that showcase a different world, it's a natural move. We've seen that kind of behavior with series that end like "Harry Potter" with "Fantastic Beasts" and series that could live to squeeze in another movie like "Star Wars" with "Rogue One." Many people wanted something like "21 Jump Street," but the difficulty of organizing that caused it to be taken in a different direction. As the casting starts to solidify, information is being released incrementally. The script by Matt Holloway and Art Marcum(the duo behind "Iron Man") involves "a white person, a black person, an older man, and it's set in modern day London" The person chosen to fill the exciting role of "white person" is Chris Hemsworth. After playing Thor in SEVEN Marvel movies, he's finally moving onto another big role. While the plot will most likely relate to the events of past "M.I.B." movies, a significant part of the movie will be pulling a "Kingsman: The Secret Service" and showcasing a parallel organization in another country. While there's still a whole movie to film, there's enough solid progress to suggest that we'll see it sometime in late 2019.