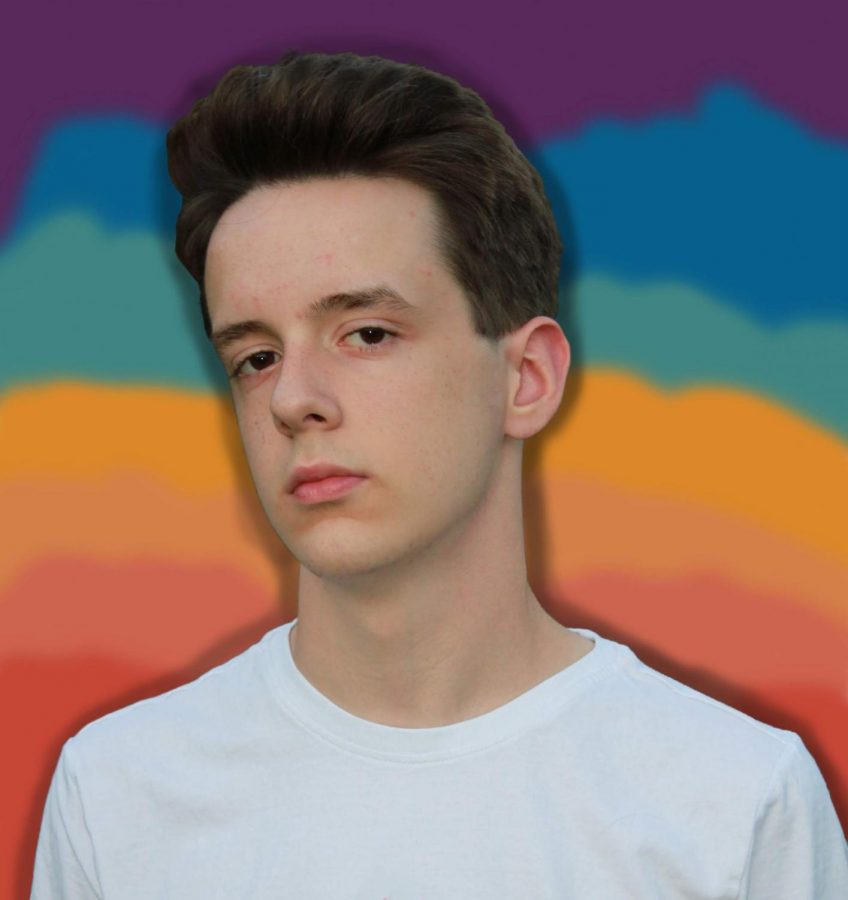 Shane Morehead, the right-hand man of yearbook editor-in-chief Makaela Patten, is a veteran boasting his seventh semester of Journalism, as well as a senior at Heritage High School. His hobbies include graphic design, sketching, admiring his chickens, listening to music in his hammock, and writing unnecessarily long reviews for restaurants. Shane's favorite bands are Modest Mouse, Charly Bliss, King Gizzard & The Lizard Wizard, Vampire Weekend, alt-J, and Rainbow Kitten Surprise. 
The rest of his after-school life is typically spent at Publix, where he's employed. Sometimes he's arranging fruits, cutting flowers, bagging groceries, cashiering, or handing out samples, but most of his time is spent stocking shelves and leading customers to the refrigerated pickles.
Shane considers his greatest accomplishments being an uncle to his two-year-old niece Elouise and being a father to an ever-increasing army of Zebra Hawthoria succulents. In a close second is the range of his travels, having been to over forty states and six countries.
He looks forward to being an active part of preserving his community and school's legacy for one last year.
Shane Morehead, Staff Writer
Dec 09, 2019

inTERRYgation: Time Travel Edition

(Story)

Apr 15, 2019

SERVING THE PUBLIC AT PUBLIX

(Story)

Mar 29, 2019

YEAHHH, THAT'S RIGHT!

(Story)

Mar 05, 2019
Feb 14, 2019

MURDER AT THE WORLD'S FAIR

(Story)

Feb 11, 2019

"EVERYTHING POOPS."

(Story)

Feb 05, 2019

MARY, QUEEN OF GHOSTS

(Story)

Jan 25, 2019

THEY COME IN PIECES

(Story)

Jan 25, 2019

*title written in whispers*

(Story)

Jan 23, 2019

STAFF SPOTLIGHT: EMILY SMITH

(Story)

Nov 15, 2018

SHREK RE-IMAGINED

(Story)

Nov 09, 2018

THIS TIME (MACHINE) AROUND

(Story)

Nov 06, 2018

THREE (THOUSAND) YEARS AND COUNTING

(Story)

Oct 24, 2018
Oct 11, 2018

SPACE JAM 2: ELECTRIC BOOGALOO

(Story)

Oct 02, 2018

GET OUT OF THE TWILIGHT ZONE

(Story)

Sep 24, 2018
Sep 21, 2018
Sep 14, 2018

FOLLOW THE GOLDEN COMPASS

(Story)

Sep 13, 2018
Sep 04, 2018

A STAR IS (RE)BORN

(Story)

Sep 04, 2018
Aug 31, 2018

INHERIT THE EARTH

(Story)

Aug 30, 2018
Aug 24, 2018

NEXT STOP: FRANCE

(Story)

Aug 20, 2018

BREAD CRUMBS LEADING TO . . . THE MOVIES?

(Story)

May 23, 2018

BACK IN BLACK (AGAIN)

(Story)

May 23, 2018
May 23, 2018

CHRISTOPHER ROBIN: THE HORROR MOVIE

(Story)

Apr 23, 2018

THE END OF THE STORY?

(Story)

Apr 17, 2018

TINTIN . . . ALIVE?

(Story)

Apr 09, 2018

A NEW TAKE ON HISTORY

(Story)

Mar 19, 2018

IT'S A PLANE, IT'S A BIRD, IT'S AN UMBRELLA

(Story)

Mar 07, 2018

THIRD TIME AROUND

(Story)

Mar 07, 2018
Feb 28, 2018
Feb 23, 2018

LETTING LOOSE SEUSS

(Story)

Feb 23, 2018

DISNEY GOES DIGITAL

(Story)

Feb 12, 2018

LET'S GET PHYSICAL

(Story)

Feb 12, 2018

RETURN TO STOP-MOTION ISLAND

(Story)

Feb 01, 2018

THE SOLO BECOMES A DUO

(Story)

Jan 26, 2018

THE (MULTIPLE) MAN FOR THE JOB

(Story)

Jan 23, 2018

A PLEASURE TO BURN

(Story)

Dec 07, 2017

Ben Affleck Wants Out

(Story)

Dec 07, 2017

A NEW FUTURE FOR MARVEL

(Story)

Dec 07, 2017

CLASH OF THE TITANS

(Story)

Nov 13, 2017

IT'S A SMALL (ENTERTAINMENT) WORLD

(Story)

Nov 08, 2017

A BIG LEAP FOR AMAZON

(Story)

Nov 06, 2017

X-MEN'S NEWEST STAR

(Story)

Nov 03, 2017

MORE KING COMING TO A THEATER NEAR YOU

(Story)

Nov 03, 2017

ANYTIME IS THE BEST TIME TO WEAR A SWEATER

(Story)

Nov 02, 2017

THE MIGHTIEST MORTAL ALIVE!

(Story)

Nov 01, 2017

JOURNEY TO THE JUNGLE

(Story)

Oct 24, 2017

A STAR WARS STORY

(Story)

Oct 20, 2017
Oct 17, 2017
Oct 03, 2017

JUST A BAD DREAM?

(Story)

Sep 28, 2017
Sep 28, 2017
Sep 26, 2017

OUT WITH THE OLD, IN WITH THE . . . NEW?

(Story)

Sep 14, 2017

DEL TORO'S NEW MASTERPIECE?

(Story)

Sep 06, 2017
Aug 25, 2017

DUCKS, CHICKENS, EGGS, AND MORE

(Story)

Aug 23, 2017

LIONSGATE MOVIE WORLD

(Story)

Aug 23, 2017

WAFFLES VS. PANCAKES

(Story)

Jun 09, 2017

I'M JUST TAKING A BREAK

(Story)

May 22, 2017

WITCHER NETFLIX SERIES

(Story)

May 22, 2017

EDITORIAL: THE END

(Story)

May 12, 2017

EDITORIAL: STANDARDIZED TESTS

(Story)

May 12, 2017

SEAGAL BANNED FROM UKRAINE

(Story)

May 08, 2017

EDITORIAL: WHAT'S POPPING?

(Story)

May 04, 2017
Apr 30, 2017

EDITORIAL: ANOTHER STUPID TREND

(Story)

Apr 28, 2017
Apr 21, 2017

THE CIRCLE OR APPLE?

(Story)

Apr 20, 2017

EDITORIAL: BURGERS, FRIES, AND OPINIONS

(Story)

Apr 13, 2017
Mar 31, 2017

EDITORIAL: RAINDROPS KEEP FALLING ON MY HEAD

(Story)

Mar 30, 2017

A-GLAZING PRODUCT PLACEMENT

(Story)

Mar 17, 2017

EDITORIAL: REBOOTS & REMAKES

(Story)

Mar 16, 2017

POWER RANGERS STREAM

(Story)

Mar 13, 2017

FOLLOW-UP ON LOGAN

(Story)

Mar 10, 2017

EDITORIAL: LOCKERS

(Story)

Mar 06, 2017
Mar 06, 2017
Feb 24, 2017

A "MAJOR" TRANSITION

(Story)

Feb 16, 2017
Feb 13, 2017
Feb 10, 2017

EDITORIAL: DR. SHEPPARD TO THE E.R.!

(Story)

Feb 06, 2017

REBELLIONS ARE BUILT ON BRUCE

(Story)

Feb 06, 2017

EAT A BOWL OF THIS!

(Story)

Jan 30, 2017

TECHNOLOGY IN CLASSROOMS

(Story)

Jan 26, 2017

WEAPON X STRIKES BACK

(Story)

Jan 20, 2017

EDITORIAL: TRANSPORTING MY THOUGHTS

(Story)

Jan 19, 2017

"OZCY MLODY" … A PLEASANT SURPRISE

(Story)

Dec 15, 2016

EDITORIAL: BEING AN UNCLE

(Story)

Dec 08, 2016

EDITORIAL: VACCINES (KEEP IT CONTAINED)

(Story)

Dec 02, 2016

EDITORIAL: HOLY SHRIMP!

(Story)

Nov 30, 2016

A VERY GENERAL CHRISTMAS

(Story)

Nov 18, 2016

EDITORIAL: MAKE IT SNAPPY

(Story)

Nov 16, 2016

BLEEDING FOR A CAUSE

(Story)

Nov 09, 2016

EDITORIAL: THE BEAUTY OF NICHOLAS CAGE

(Story)

Nov 07, 2016

THE BOOK BEATDOWN: IT'S LIT!

(Story)

Nov 01, 2016
Oct 26, 2016

EDITORIAL: DC vs MARVEL

(Story)

Oct 21, 2016

EDITORIAL: ROAD TRIPPIN'

(Story)

Oct 20, 2016
Oct 13, 2016

EDITORIAL: PIE, OH PIE

(Story)

Oct 12, 2016
Oct 06, 2016

EDITORIAL: THE SPACE BETWEEN THEM

(Story)

Sep 30, 2016
Sep 27, 2016

EDITORIAL: FURRY FRIENDS

(Story)

Sep 23, 2016

HOMECOMING COURT 2016

(Story)

Sep 21, 2016

AN OPINION ON CHIPS

(Story)

Sep 16, 2016

WHAT'S UP, FRESHMEN?

(Story)

Sep 14, 2016

THE MANY FACES OF BATMAN

(Story)

Sep 09, 2016
Sep 08, 2016
Sep 01, 2016