TRAVIS'S WORLD
Hang on for a minute...we're trying to find some more stories you might like.
Since the release of "Astroworld," there is not doubting that Travis Scott is a star; he's a superstar. His live shows are full of energy, charisma, along with some sick beats and bars. With this being said, his music is full of these key ingredients as well. "Astroworld" is one of my favorite rap album of 2018-2019, and that says a lot. All the other rap albums that have been released do not compare anywhere close to Travis' recent work. With all the work he put in the album, there was some major payoff. "Astroworld" has been No. 1 on Billboard's 200 since its release. Getting his inspiration from a defunct amusement park in Houston for the title, the album is bursting with call-backs of Southern rap history.
Now I'm sure the song you are familiar with the most is "Sicko Mode," which features mainstream rapper, Drake. I will admit the song is good, but they're are definitely better tunes on the album. I mean after all it was No. 1 on Billboard's Hot 100 after two consecutive, and four total, weeks. One unforgettable song is "RIP Screw," which is a tribute to Houston's innovator DJ Screw. This hot track features rap sensation Swae Lee. Travis and Swae really balance the melodies and rapping well especially with autotuned line "Rest in peace Screw tonight/ We take it slow tonight." Moving through Travis' world, "Wake Up" is on a whole different universe. All you hear in the beginning of the song are guitar strums. Then you hear the slurty voice of Abel ("The Weeknd") and you know instantly be a smash. I really like how the song has more of a R&B vibe to it than rap, even when Travis starts rapping. Not to mention, it has a great beat that gets loud and drowns out through different parts of the song. Another one of my personal favorites is "5% Tint." This song has such a unique beat that is hard to describe. The buildup of the song is great, especially when Travis says through autotune, "Who's that creeping through my window?" Speaking of great buildups, "Astrothunder" is definitely worth listening to. Drums are popping up from every angle and the hook is one that will be in your head all day—"Feel like the life I need a little distance."
Once you experience "Astroworld,"  you will not want to return to planet earth. If you like sick beats and crazy drops, this is the album for you. So, if you haven't done so already, give it a listen. And remember, Travis will always "wish you were here."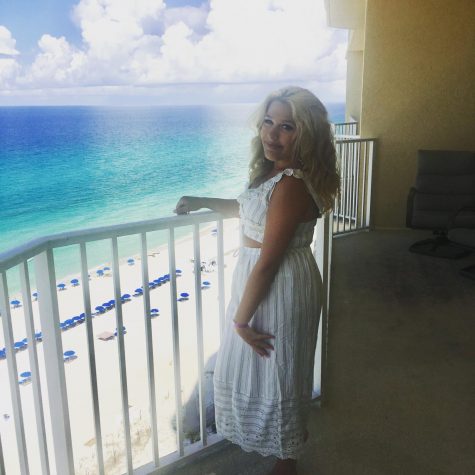 Grace James, Entertainment Writer
Grace James is a senior here a HHS and has been involved in Journalism the previous year. Writing has always been a passion for Grace. She plans to major...