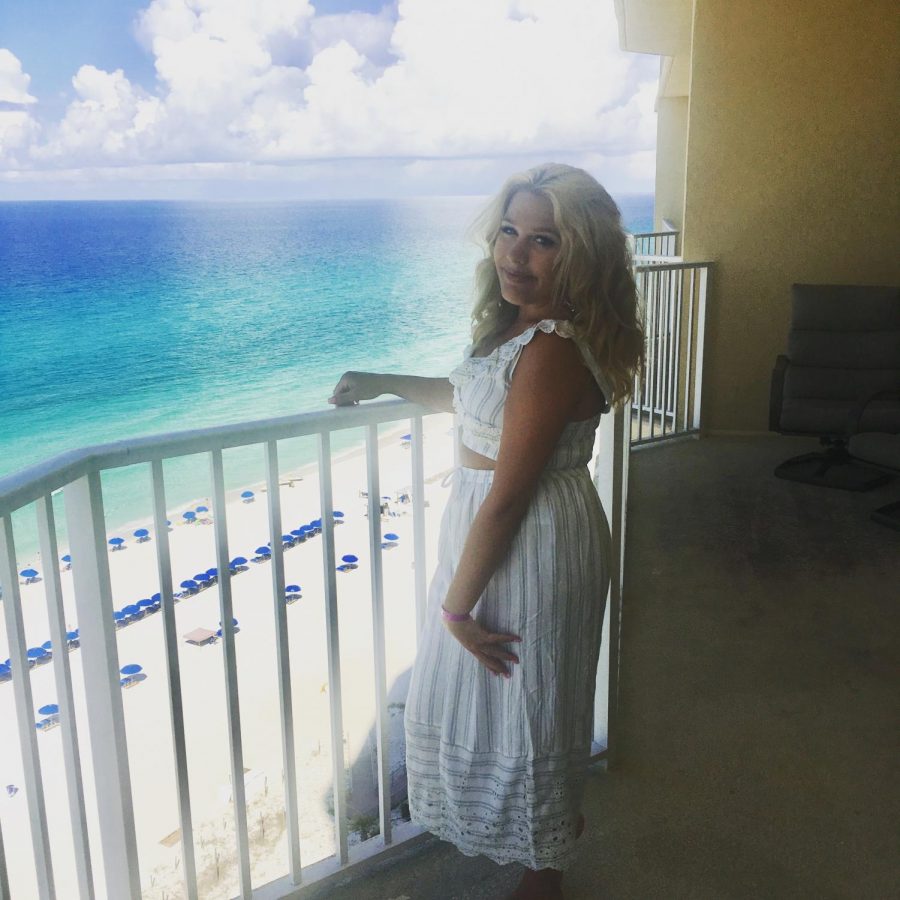 Grace James is a senior here a HHS and has been involved in Journalism the previous year. Writing has always been a passion for Grace. She plans to major in communications to pursue a career as a investigative journalist, as well as minor in theatre. While writing is one of her many hobbies, acting is another hat she enjoys dearly. She has been acting since she was 10 and has always loved being on stage. In addition to being in many plays and musicals here at Heritage, she also has done many plays outside of school at the Colonnade Center in Ringgold.
See How They Run
was when Grace had her first lead role as Penelope Toop here at Heritage. Grace has also participated in Heritage's One Act Play competitions–
 Flowers for Algernon
and
Game of Tiaras.
In addition to One Act competition, Grace has been in Heritage's Literary competition since her sophomore year. Grace is also involved in Beta Club, the National Honor Society, and Drama Club.
Grace James, Entertainment Writer
May 01, 2019
Apr 18, 2019

CALIFORNIA DREAMIN'

(Story)

Apr 15, 2019
Apr 15, 2019

MY FIRST KAYAKING EXPERIENCE

(Story)

Mar 29, 2019

I USED TO KNOW H.E.R.

(Story)

Mar 29, 2019

PERFECTLY ANGELIC

(Story)

Mar 25, 2019
Mar 19, 2019

PRODIGIOUSLY SCARY

(Story)

Mar 07, 2019

BOOGIE WITH BOOGIE

(Story)

Mar 05, 2019
Feb 28, 2019

SOMETHING SUSPICIOUS

(Story)

Feb 25, 2019

"ISN'T IT ROMANTIC?"

(Story)

Feb 14, 2019

THE NEXT BIG THING

(Story)

Feb 11, 2019

YOU SHOULD SEE HER IN A CROWN

(Story)

Feb 06, 2019

A NEW KING OF R&B?

(Story)

Feb 01, 2019

WICKED WITCHCRAFT

(Story)

Jan 30, 2019
Jan 30, 2019
Jan 30, 2019

WHO'S WATCHING YOU?

(Story)

Jan 22, 2019
Jan 18, 2019

STAFF SPOTLIGHT: COOPER HAMILL

(Story)

Aug 20, 2018

SERIOUSLY SINATRA

(Story)

Aug 20, 2018
Aug 20, 2018

JUST A BROOKLYN BABY

(Story)

Aug 17, 2018
Aug 17, 2018

40 YEARS LATER . . .

(Story)

May 23, 2018
May 23, 2018
May 04, 2018
May 04, 2018

NO TEARS LEFT TO CRY

(Story)

Apr 23, 2018

CALL OUT HIS NAME

(Story)

Apr 23, 2018
Apr 17, 2018
Apr 17, 2018

HARLEY QUINN RETURNS

(Story)

Mar 19, 2018
Mar 15, 2018

FOREVER A HOPELESS ROMANTIC

(Story)

Mar 15, 2018

DARKNESS FALLS FROM THE LIMELIGHT

(Story)

Mar 15, 2018

INSANITY IN WINCHESTER

(Story)

Mar 07, 2018

CAPTIVATED BY COBAIN

(Story)

Mar 07, 2018
Feb 23, 2018

FROM THE SILVER SCREEN TO THE LIMELIGHT

(Story)

Feb 23, 2018

YOUNG, DUMB, & AN AMERICAN TEEN

(Story)

Feb 12, 2018
Feb 12, 2018
Feb 02, 2018

A STARBOY IS BORN

(Story)

Feb 01, 2018

DEVILISHLY HANDSOME

(Story)

Jan 26, 2018
Jan 26, 2018

THE RETURN OF REGINA GEORGE

(Story)

Jan 23, 2018
Jan 23, 2018

LIVING LIFE IN STYLE

(Story)