And So The Preparation Begins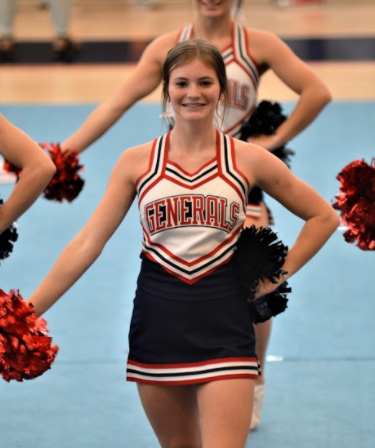 Cheerleading is no easy sport. From throwing your peers into the air (and being expected to catch them, of course), flipping through small aisle ways created by your team, and having the mental ability to be 100% trusting of your actual life in someone else's hands, you have to be pretty tough to do well at the sport, let alone actually win a competition against every team in your region.
This past weekend (Saturday, November Ninth), your Heritage High School cheerleaders traveled to Dawson Co. High School for the annual region competition. As you may have heard, they did take home the first place trophy, and are now preparing for state! When Mady Raye Terry was asked what the most memorable part of regions was, she elaborates: "From Region, I would consider the most memorable factors of region before we started warming up and after we performed our routine. Before the competition, we had a meeting about how/what we could do to make our routine the best that it could be. After we performed, we all sat together to watch the 6A teams compete as we waiting for the awards."
Mady Raye also explains that she thinks Region's brought her team closer together. "At Monday practice, after Region, we all encouraged each other to do the best of their abilities. Then we stayed after practice to play games and bond as a team. Throughout this week, we are making practices more fun by having different themes to wear each day while also working hard for State." Since they won Regions, they obviously qualified for State, which is why they are working so hard this week. So far, they have had a black-out day, as well as a pink-out day. The theme for today and the rest of the week is unknown. 
As far as the actual competition, Mady Raye and many other team members explained that the other teams were extremely clean, and they were nervous because Coach Burkett continuously preaches to them: "Clean always wins, even if their stunt level is higher, and vice versa." Because of this, many of the girls actually were not expecting to pull out a win. Their nerves were at a high for the season.
Of course when Heritage was called for first place, the excitement set in. Once back on the bus, they knew it was time to begin their "mental preparations," as Mady Raye states. The lady generals will travel down to Columbus, GA, Thursday night, and they will be competing on Friday and Saturday.