Finding Joy in an Unprecedented Freshman Year with Briley Simpson
Starting high school during a global pandemic must be very strange, and it was even almost enough to disappoint optimistic Briley Simpson. To her, it may not be what she expected, and it has been difficult, but she still tries to see the best things in life. For Briley, that's just the way our world is.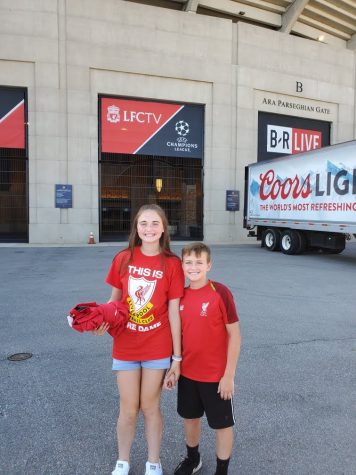 She was asked how she would introduce aliens to Earth, for instance, and she answered, "If and when the aliens come to Earth, I would describe it to them as a mysterious place where both good and bad can happen at any moment." One thing she'd like to do in this world is visit Paris and eat a macaron next to the Eiffel tower. She also would like to be famous someday, whether it's for her rad soccer skills or any other career she may pursue; having her name known is a dream of hers. 
She has actually been playing soccer since she was just three years old and has always stuck with it. This could be since she enjoys how the sport can be aggressive and intense yet also composed, planned. She plays for the Nomads, a select team from Hixon, where she plays as a center mid. She has been with her team for five years, and her teammates are like family, both on and off the field. 
Under the big dreams and the positive attitude, Briley is just a nice person. She tries to be kind to everyone since she thinks there is too much hate in the world. Maybe some of that kindness comes from her family, who she says has always supported her. They include her parents and her younger brother. Or maybe it's the friends she's had since 6th grade, who have been impactful and good influences. She likes to spend time with friends such as Claire Simpson and Nathan McCoy, as well as others whom she loves to goof off with. Briley's hobbies, when she isn't playing soccer, include reading books and listening to music. Some of her favorite bands are The Aubreys, The Beatles, and The Wallows. As student new to the Journalism class, Briley was excited to find out that she would be helping with the yearbook, as she had joined hoping to improve her writing skills. In this confusing time, Briley may not get the high school experience she expected, but an adventure still awaits.