Out of Sherlock's Shadow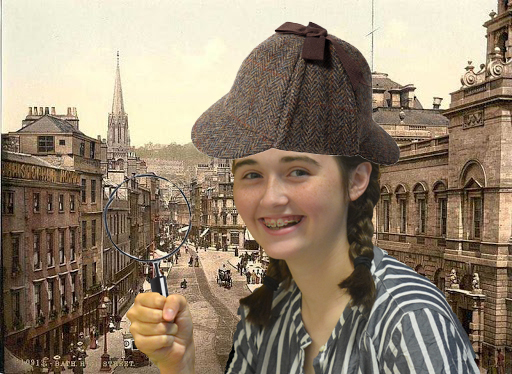 Millie Bobby Brown has done it again. The "Stranger Things" star is making another appearance on the big screen as Enola Holmes, sister of famous detective Sherlock. Fans of Brown's work will go crazy over this movie phenomenon, and people who are unfamiliar with Brown won't stay unfamiliar for long after seeing this. Enola will become an icon to young girls everywhere, as she proves again and again that you can overcome any obstacle no matter your gender or age. The movie was released on September 23, 2020. As it is a Netflix Original Film, the movie can only be viewed by Netflix subscribers, but $7.99 a month is a small price to pay in order to see amazing movies such as this one.  
16 year old Enola Holmes (Millie Bobby Brown) is on a mission to find her mother (Helena Bonham Carter), who mysteriously went missing. Until she is found, Enola is put under the care of her brothers, Mycroft (Sam Claflin) and Sherlock Holmes (Henry Cavill). Mycroft is set on sending Enola to finishing school so she can learn how to become a lady, but Enola, raised to be independent and self sufficient, refuses to conform to society. When Enola stumbles across a set of clues left behind by her mother, she embarks on a journey to London to find her and bring her home. 
Along the way Enola meets Lord Tewksbury (Louis Partridge), who is also on the run from his own future. The two form an unlikely pair and together they travel to London in hopes of each discovering what they are looking for. With the need to prove to her brothers that she is capable of living and thriving in society on her own, Enola is determined to solve the case. As she continues to unravel the mystery of her mother's disappearance, an even more sinister plot emerges causing Enola's search to be put on hold.  
The movie does a great job of balancing the themes of feminism, self discovery, and change alongside the obstacles Enola has to overcome. It takes place during the climax of the women's suffrage movement. The government is on edge because the House of Lords are about to take a vote on whether Women should have representation in the government. The country is split over this confrontational decision, which makes being a woman during this time even harder. Enola faces the challenges of living during a time when the only thing people thought she was good for was being a lady. The story shows how important it is to follow your own path and not let the pressures of society influence you. 
This movie will spark a sense of adventure in everyone who watches it. Director Harry Bradberry really knew what he was doing when creating this masterpiece that is so incredibly exciting. Millie Bobby Brown brings so much to the role. She is goofy and charismatic in general and it really comes across on the screen. It just feels authentic and fun. As you watch it, you feel like you are solving the mystery with Enola. This is due to the amazing script and screen writer Jack Thorne, who worked on movies such as "Wonder", "The Secret Garden", and "The Aeronauts." I recently rewatched the film and discovered many things I had missed the first time. With an amazing cast and many incredible performances, "Enola Holmes" is a movie I would most definitely recommend over and over.