THE NEXT ANIME REMAKE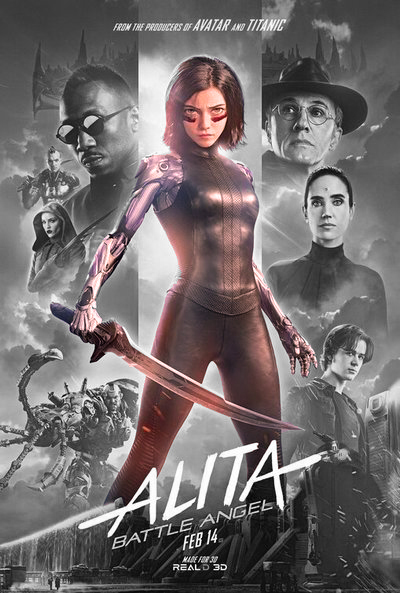 Hang on for a minute...we're trying to find some more stories you might like.
"Alita: Battle Angel" is the newest film from director Robert Rodriguez ("Sin City," "Spy Kids") based of the manga/anime "Battle Angel Alita." "Alita: Battle Angel" features an A-list cast including Christoph Waltz, Jennifer Connelly, Mahershala Ali, Jackie Earle Haley, Jai Courtney, and Edward Norton. Rosa Salazar stars as the titular cyborg hero. Produced by legendary and visionary director James Cameron ("Avatar," "Terminator 2: Judgement Day," and "Titanic") "Alita: Battle Angel" is a visual masterpiece. The Computer-generated imagery is the cleanest joining the ranks of films like "Avatar" and Peter Jackson's 2005 remake "King Kong." The acting is stellar, which would come as no surprise to anyone seeing as that there are multiple Academy award winners and nominees. Rosa Salazar is charming as Alita. She seems like she's having fun in the movie and is able to bring a childlike innocence to a robot that was once a manufactured killer. There's just one big problem with "Alita: Battle Angel": the script. James Cameron co-wrote the film and he's admitted that he's not that great of a screenwriter. That honest truth is prevalent in "Alita." Much of the dialogue is very on the nose and just simply bad. The romance of the story suffers as a result of this. The love arc between Alita and a human, Hugo, becomes way to corny for its own good. It's probably worse than the dialogue shared between Natalie Portman and Hayden CHristensen in "Star Wars: Episode II: Attack of the Clones." Between the eye-pleasing visuals, well-choreographed (if not brutal) fight scenes, and some good performances, "Alita: Battle Angel" is a fun but imperfect sci-fi romp and is a clear step-forward in the right direction in anime remakes.