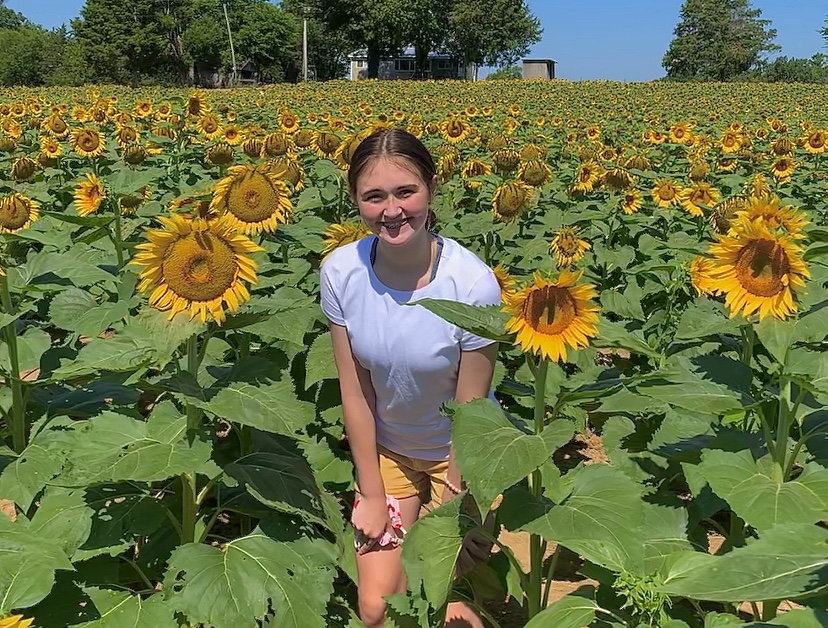 Briley Simpson is a freshman this year at Heritage. Coming into high school, Briley was nervous. She didn't really know what to expect, but after her first couple of days Briley realized that high school wasn't so scary. In fact, she enjoyed it. 
Briley's favorite sport is soccer. She has been playing since she was three and especially enjoys playing it with her friends. She also loves listening to all kinds of music. Classic Rock, Indie, Pop, you name it. Some of her favorite bands are The Beatles, The Aubreys, Journey, and the Wallows. One of her other hobbies includes reading books. Briley's favorite genre is dystopian. She also loves to watch movies. Some of her favorites include "The Breakfast Club," "Ferris Bueller's Day Off," "The Goonies," and "Back to the Future." Briley really likes old school movies. She also enjoys being outside. She loves to ride her bike or go on a run around her neighborhood. 
One day Briley hopes to be able to travel the world. She loves foreign places and different cultures.She's rarely ever left Georgia, much less America, and she is eager to see what else is out there. 
Briley originally signed up for Journalism because she thought it would be an interesting and creative class, and she wasn't disappointed. When she found out that the Journalism staff helped with the yearbook and the school newspaper, she was even more thrilled to be a part of it. Briley can't wait to see what the rest of her freshman year has in store.
Briley Simpson
Nov 17, 2020

Christmas Care Package

(Story)

Nov 05, 2020
Oct 23, 2020

A Different Kind of Fútball

(Story)

Oct 09, 2020

Out of Sherlock's Shadow

(Story)

Oct 09, 2020

Playing Through a Pandemic

(Story)

Sep 30, 2020

TikTok: The Trend that Keeps on Trending

(Story)

Sep 22, 2020

Cade Stone is Conquering the World

(Story)

Sep 22, 2020

Two Ears Listening to Two Hands

(Story)