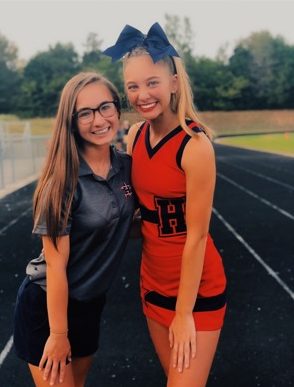 Paige Johnson is a second-year member of the Journalism staff, and is a sophomore at Heritage High School. Paige has hopes of travelling the world once she gets out of high school, and she plans on writing about all of the things she sees. She hopes to go to college to become a preschool teacher, or work with kids in any way she can. She is excited to be in Journalism class again, for she enjoys writing articles and working on the yearbook pages. 
During her free time, Paige is often at home watching Disney Plus, at her boyfriend's house, eating somewhere (probably Taco Bell) with her friend Layla, or at church. Paige is a member of Peavine Baptist Church, and every Wednesday you can find her in the room with all of the two-year-olds. Spending time with those kids on Wednesday nights is the highlight of her week! Between the months of May and November, you can find her on the football practice field, and when the games start in August, she can be seen down on the sidelines as a manager. 
She looks forward to being a part of the yearbook staff for the next two years and can't wait to see what role she will have by her senior year.
Paige Johnson, Staff Writer
Oct 02, 2020

Slowing Down with Allie Boyd

(Story)

Sep 18, 2020

Rocket Man Keeps The Beat

(Story)

Mar 10, 2020

Does Chrisley Know Best?

(Story)

Dec 07, 2018
Dec 06, 2018
Dec 03, 2018

CHAMPION CHEERLEADERS

(Story)

Nov 06, 2018

ROLLING OF THE TIDES

(Story)

Nov 06, 2018

WHY ROSS IS THE WORST

(Story)

Oct 31, 2018
Oct 22, 2018
Oct 02, 2018

EVERYTHING IS FINE!

(Story)

Sep 24, 2018
Sep 21, 2018

FAMILY IS EVERYTHING

(Story)

Sep 21, 2018

HOW 'BOUT THEM DAWGS

(Story)

Sep 06, 2018
Sep 04, 2018
Sep 04, 2018

WHERE FRIENDSHIPS ARE MADE

(Story)

Aug 28, 2018

THE BOOK IS ALWAYS BETTER

(Story)