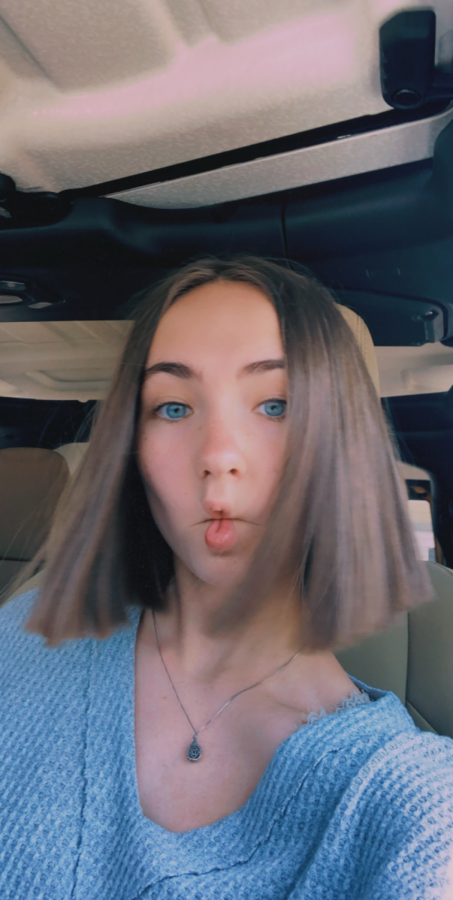 Paige Johnson, the editor-in-chief of 2020-2021
The Legacy,
is a junior at Heritage High School and a third-year Journalism student. Paige's favorite thing about Journalism is getting to design yearbook pages and capture memories for people to look back on years from now. Paige's hobbies include playing "Animal Crossing: New Horizons," making TikToks with her sister, and hanging out with her small group of friends. Paige has a puppy, who does not really look like a puppy, named Charlie. Her family got Charlie last November, and since then they have taken many naps together, lost many tennis balls in the front yard, and taken lots of selfies. 
This year is Paige's second year of being a football manager for the Generals. Although their season doesn't look all the same this year, she is still looking forward to being on sidelines on Friday nights. Paige is also a member of Peavine Baptist Church in Rock Springs. She has been attending Peavine since she was almost one year old. During her seventh grade year, Paige discovered her passion for working with children and began working with the group of two year olds on Wednesday nights. 
Paige loves to travel, and falls in love with almost everywhere she visits. Some of her favorite vacation spots include Pigeon Forge, Knoxville, Hilton Head, and Panama City. One of her favorite things about this very long summer was learning how to drive a jet ski on Lake Weiss. One place she is very eager to visit is Hawaii. She had plans of travelling to Nicaragua over the previous spring break, but due to Covid-19, her trip was cancelled. She hopes to get the opportunity again. 
Paige is very unsure of what path she wants to take in the future. She does plan on going to college and potentially studying to be a preschool teacher, or maybe even continue with the journalism pathway. She has hopes of going to Berry College when she graduates from Heritage although she is very unsure of what her future holds.
Paige Johnson
Oct 02, 2020

Slowing Down with Allie Boyd

(Story)

Sep 18, 2020

Rocket Man Keeps The Beat

(Story)

Mar 10, 2020

Does Chrisley Know Best?

(Story)

Dec 07, 2018
Dec 06, 2018
Dec 03, 2018

CHAMPION CHEERLEADERS

(Story)

Nov 06, 2018

ROLLING OF THE TIDES

(Story)

Nov 06, 2018

WHY ROSS IS THE WORST

(Story)

Oct 31, 2018
Oct 22, 2018
Oct 02, 2018

EVERYTHING IS FINE!

(Story)

Sep 24, 2018
Sep 21, 2018

FAMILY IS EVERYTHING

(Story)

Sep 21, 2018

HOW 'BOUT THEM DAWGS

(Story)

Sep 06, 2018
Sep 04, 2018
Sep 04, 2018

WHERE FRIENDSHIPS ARE MADE

(Story)

Aug 28, 2018

THE BOOK IS ALWAYS BETTER

(Story)