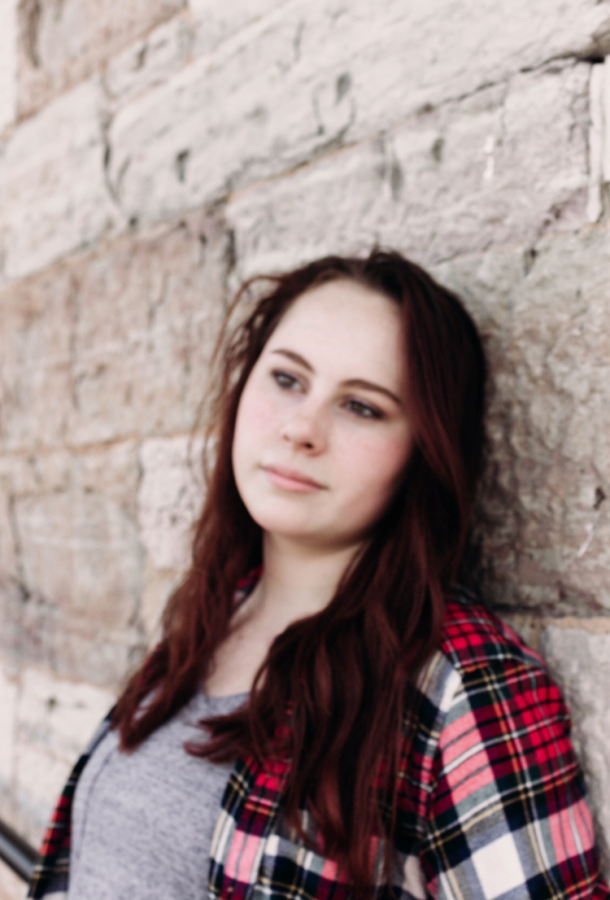 Emily Smith is a 17-year-old who came to school one day and was shocked to find Journalism on her schedule again. Even though she was shocked, she found herself overjoyed to be able to help out with the yearbook and the HHS General Journal during her last year of high school. 
As you may have figured out, Emily Smith is a senior at Heritage High School with three years of experience in the Journalism class. This, according to Mr. Peace, makes her one of the "elders" within this year's class. While she enters her senior year confidently, she is somewhat sad about leaving the place where many memorable moments were made. This will be the last year for her to hang out with her Game Club friends, be a part of the ASL Honor Society, and to attend competitive swim meets as an HHS swimmer. 
Emily Smith is not the average teenager, however. You may think of her as a coordinated but depressed high schooler who can't wait to leave, but she is nothing like that. Emily actually enjoys learning: in fact, she is planning on going to Georgia College to achieve a degree in Early Childhood Education. She can be sweet and kind when she wants to be, however if you do something foolish or mindless, she will turn that action right back in your face with a snide comment and walk away. 
And now you have met the newly senior, Emily Smith.
Emily Smith, Staff Writer
Dec 16, 2019

Ketchup: Soup or Condiment?

(Story)

Dec 09, 2019

The Night Black Friday Ruined My Life

(Story)

Nov 20, 2019

To Go or Not to Go–That is the Question

(Story)

Nov 14, 2019

The Stress is Real!

(Story)

Nov 12, 2019

All It Takes is One Bad Day

(Story)

Nov 11, 2019

The Only Mosquitoes We Can Trust

(Story)

Nov 06, 2019

Time to Get That Special Strike

(Story)

Oct 17, 2019

"I'm Not Worried, Harry…This Lock-In Will Be Great"

(Story)

Oct 07, 2019

"Even the darkest night will end and the sun will rise."

(Story)

Oct 07, 2019

Attention All Seniors

(Story)

Sep 24, 2019

Time To Meet David Dinger

(Story)

Sep 24, 2019

A Meeting That Will Send You Off The Deep End

(Story)

Sep 24, 2019

Student Turned Teacher

(Story)

May 01, 2019

MIRROR, MIRROR ON THE WALL….WHO IS THE MOST FORMAL OF THEM ALL?

(Story)

Apr 24, 2019

WHAT'S IT LIKE TO BE IN JOURNALISM?

(Story)

Apr 18, 2019

CAULIFLOWER IS NOTHING BUT CABBAGE WITH A COLLEGE DEGREE

(Story)

Apr 18, 2019

A WEEK FULL OF HEART

(Story)

Mar 29, 2019

REVENGE OF THE NERDS

(Story)

Mar 29, 2019

HARRY POTTER VS. LORD OF THE RINGS

(Story)

Mar 25, 2019
Mar 19, 2019
Mar 07, 2019
Mar 05, 2019

THE SONG HEARD FROM CHATTANOOGA

(Story)

Feb 28, 2019

JOIN THE GREEN SIDE…WE HAVE TREES

(Story)

Feb 25, 2019

FAKE NEWS: THE PINOCCHIO AWARD

(Story)

Feb 14, 2019

A COUNSELOR'S NIGHTMARE

(Story)

Feb 11, 2019
Feb 07, 2019

"NO ONE EXPECTED ME."

(Story)

Feb 01, 2019
Jan 31, 2019

THE DANCE FLOOR IS CALLING

(Story)

Jan 25, 2019

A TIME FOR EVOLUTION

(Story)

Jan 25, 2019

AN ADVENTURE OF WORDS

(Story)

Jan 23, 2019

A BOMBSHELL ANNOUNCEMENT

(Story)

Jan 22, 2019
May 23, 2018

A NECESSARY EVIL?

(Story)

May 23, 2018

A CLASS'S FINAL DESTINATION

(Story)

May 23, 2018

CAN'T LIVE WITHOUT IT

(Story)

May 23, 2018

A WEEK OF BUSINESS

(Story)

May 23, 2018

THAT END OF THE YEAR STRUGGLE

(Story)

May 23, 2018

A MONTH OF DISTRESS

(Story)

May 23, 2018
May 23, 2018

THAT TIME OF YEAR AGAIN

(Story)

May 23, 2018

THE LONG-AWAITED RETURN

(Story)

May 23, 2018

HOW TO DYE AN ALPACA

(Story)

Apr 11, 2018

THE CURSE OF BREAK

(Story)

Apr 11, 2018
Mar 26, 2018
Mar 26, 2018

IT'S JUST A THEORY

(Story)

Mar 21, 2018

FAMILY FROM ANOTHER WORLD

(Story)

Mar 21, 2018

SHH! IT'S A SECRET.

(Story)

Mar 21, 2018

THIS WEEK IS UNFINISHED

(Story)

Mar 07, 2018

WHAT'S YOUR GOAL?

(Story)

Mar 07, 2018
Mar 07, 2018

DODGEBALL: IT'S GOING DOWN

(Story)

Mar 07, 2018
Feb 28, 2018

PICKIN' WINNERS AT PICKENS

(Story)

Feb 23, 2018

A WEEK OF AGRICULTURE

(Story)

Feb 23, 2018
Feb 12, 2018

A NIGHT TO REMEMBER

(Story)

Feb 12, 2018
Feb 02, 2018
Feb 01, 2018

IMPACTING ONE ANOTHER

(Story)

Jan 26, 2018

STUDY UP ON SOME STUDY TIPS

(Story)

Jan 26, 2018

THE PLACE BEYOND OUR WORLD

(Story)

Jan 26, 2018

FFA TAKES SONORAVILLE BY STORM

(Story)

Jan 23, 2018

THE SNOW BALL EFFECT

(Story)